Start-up of a CO2 refrigeration system
INTARCON
The CO2 refrigeration systems have a requirement, and is that it needs a previous study and elaborate design in order to determine which is the specific system that best suits the needs of each case. 
The use of this refrigerant has two known phases: subcritical and transcritical. It must be taken into account among others, what is the climate zone or the amount of elements to be cooled.
The benefits and applications of CO2
Before knowing the recommendations for installation, let's remember some of the most common benefits and applications that characterize CO2 as a substitute refrigerant.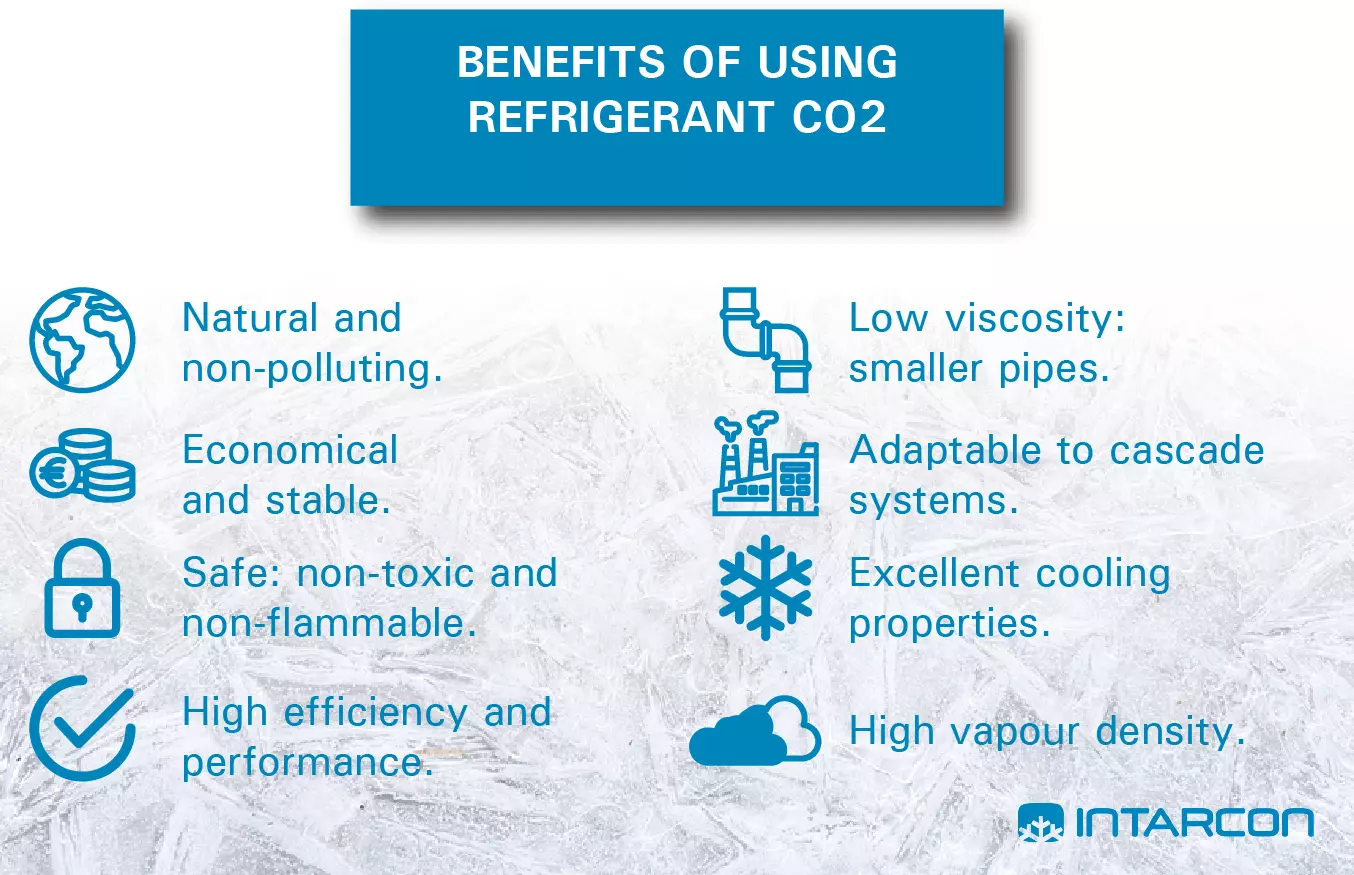 Benefits of using CO2
It is natural and non-polluting. It does not damage the ozone layer, therefore it is more environmentally friendly and reduces the potential climate impact.
Economical and stable, in addition to reducing emissions and becoming a clean energy source, the use of CO2 has become a fairly safe and inexpensive alternative for refrigeration.
It is safe: non-toxic and non-flammable.
High efficiency and performance.
Excellent cooling properties, achieving much lower energy consumption.
High vapor density.
Low viscosity: smaller pipes, thus minimizing system cost.
Adapts to cascade systems.
The most common applications of CO2
Commercial and industrial refrigeration.
Refrigeration for transport.
Compact systems.
Supermarkets.

Direct, cascade and indirect systems.

Start-up procedure for a CO2 installation.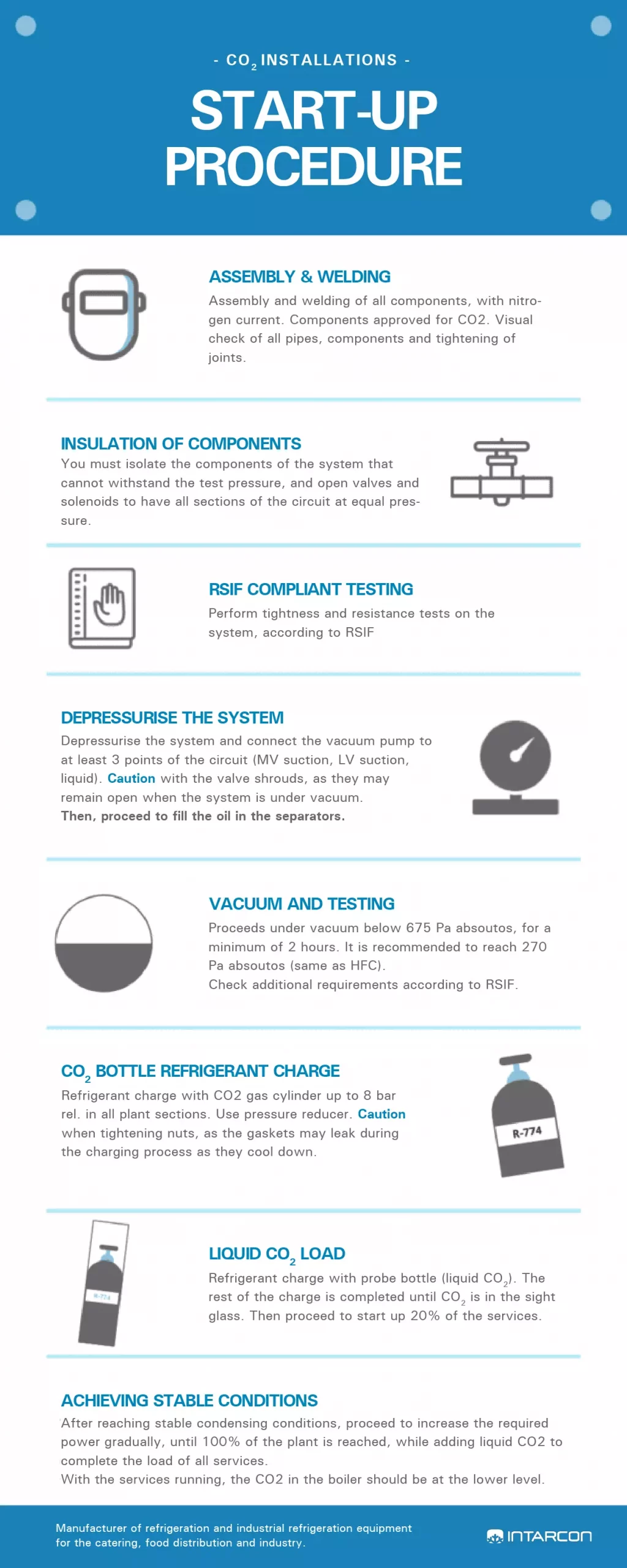 For the start-up of a CO2 system, the following procedure is recommended:
Assembly and welding of all components, with nitrogen current. Components approved for CO2.
Visual check of all pipes, components and tightening of joints.
Isolate system components that cannot withstand the test pressure, and open valves and solenoids to bring all sections of the circuit to equal pressure.
Carry out tightness and resistance tests on the system, in accordance with RSIF.
Depressurise the system and connect the vacuum pump to at least 3 points of the circuit (MV suction, LV suction, liquid). Caution with the valve shrouds, they may remain open when the system is under vacuum.
Oil charge in separators.
Vacuum below 675 Pa absolute, for a minimum of 2 hours. 270 Pa abs. is recommended (same as HFC). Check additional requirements according to RSIF.
Refrigerant charge with CO2 gas cylinder up to 8 bar rel. in all plant sections. Use pressure reducer. Caution when tightening nuts, as the gaskets may leak during the charging process as they cool down.
Refrigerant charge with probe bottle (liquid CO2). The rest of the charge is completed until CO2 is in the sight glass. Start up 20% of the services.
After reaching stable condensing conditions, proceed to increase the required power gradually, until 100% of the plant is reached, while adding liquid CO2 to complete the load of all services. With all services running, the CO2 in the boiler should be at the lower level.
Important: Avoid entrapment of liquid CO2 on gauge bridges and tools that can be temporarily connected to the system.

Regulations to be taken into account for installation with CO2
There are also a number of regulations to be taken into account regarding the procedure for the commissioning of a CO2 plant.
Regulation (EC) No 1005/2009 of the European Parliament on substances that deplete the ozone layer.
Royal Decree 552/2019, of 27 September, approving the safety regulations for refrigeration installations and their complementary technical instructions.
Royal Decree 1042/2013, of 27 December, approving the Regulation on the Tax on Fluorinated Greenhouse Gases. Law 16/2013.
Law 6/2018, of 3 July, on the General State Budget for 2018. Article 85 (modification of the previous regulation).
Regulation (EU) No 517/2014 of the European Parliament and of the Council of 16 April 2014 on fluorinated greenhouse gases. "F-Gas Regulation".
Royal Decree 115/2017, of 17 February, which regulates the marketing and handling of fluorinated gases and equipment based on them, as well as the certification of professionals who use them and which establishes the technical requirements for installations that carry out activities that emit fluorinated gases.
International Electrotechnical Committee (IEC 60335-2-89). Refrigerant charge in refrigerated furniture.