Ammolite chillers have a high return on investment for the refrigeration installation.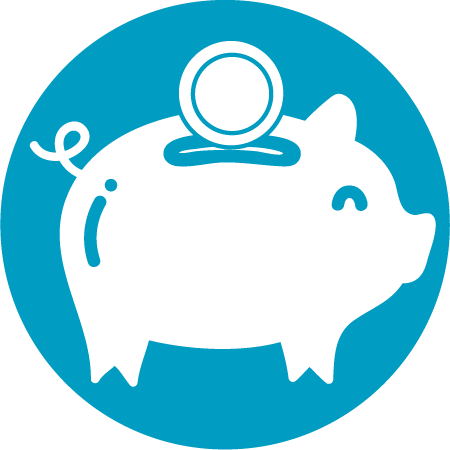 High energy efficiency
Ammonia has excellent thermodynamic properties, superior to any other refrigerant, with real performance superior to CO2, R134a or R290.
ENVIRONMENTAL SUSTAINABILITY
The most sustainable choice based on current regulations and environmental safety.
Low charge of natural refrigerant
Ammonia has no greenhouse effect and does not damage the ozone layer. Thanks to low refrigerant charge components and a liquid recipient free design, we have achieved the lowest specific refrigerant charge on the ammonia market.
Reliable operation, without safety risks or production losses.
No need for a machine room
A compact system that incorporates an air cooled condenser, dry expansion evaporators and outdoor components, reducing the risk of a possible leak. 2800 hour salt spray test (SWAAT).
Low charge ammonia technology
Ammolite brings together the latest ammonia technology to reduce the refrigerant charge in the installation. Its system uses the minimum refrigerant load possible, eliminating a refrigerant recipient while using low charge components, such as dry expansion evaporators or microchannel condensers, which reduce the specific charge by 70 g per kW of cooling capacity.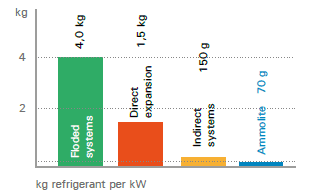 Ammolite chillers have the highest energy efficiency, thanks to the addition of low-consumption components like EC fans, permanent magnet motors and the naturally high efficiency of ammonia refrigerant.
All this allows guarantees the best seasonal energy efficiency ratio (SEER) on the market in accordance with the European Ecodesign Directive.
Ammolite offers low energy consumption and zero greenhouse effect that make it the most sustainable solution on the market.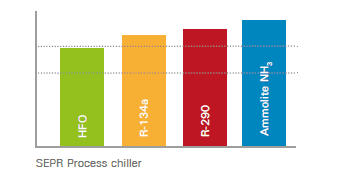 The life cycle cost of a refrigeration system includes the initial investment and operational costs throughout its lifespan. Costs include electrical, evaporative condenser water bills and maintenance.
The best compromise is a contained extra initial investment with a quick return on investment based on future lower operating costs. This cost analysis compares a new system with previous basic reference installation.
Ammolite is the best choice for a the lowest life cycle cost.