---
Low charge ammonia technology
Ammolite brings together the latest ammonia technology to reduce the refrigerant charge in the installation. Its system uses the minimum refrigerant load possible, eliminating a refrigerant recipient while using low charge components, such as dry expansion evaporators or microchannel condensers, which reduce the specific charge by 70 g per kW of cooling capacity.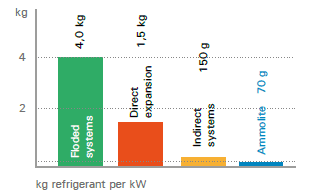 Ammolite chillers have the highest energy efficiency, thanks to the addition of low-consumption components like EC fans, permanent magnet motors and the naturally high efficiency of ammonia refrigerant.
All this allows guarantees the best seasonal energy efficiency ratio (SEER) on the market in accordance with the European Ecodesign Directive.
Ammolite offers low energy consumption and zero greenhouse effect that make it the most sustainable solution on the market.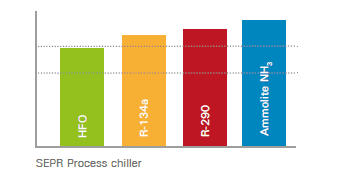 ---
A wise investment
The life cycle cost of a refrigeration system includes the initial investment and operational costs throughout its lifespan. Costs include electrical, evaporative condenser water bills and maintenance.
The best compromise is a contained extra initial investment with a quick return on investment based on future lower operating costs. This cost analysis compares a new system with previous basic reference installation.
Ammolite is the best choice for a the lowest life cycle cost.

Life cycle cost over 20 years. Seasonal performance, load profile and temperature histogram according to Ecodesign regulations for process chillers. Energy cost of 0,10 €/kWh. Water cost including treatment 2 €/m3. Annual energy consumption according to Ecodesign regulations.
---
Ammolite – NH3 Chiller. High efficiency ammonia refrigeration technology developed by INTARCON for industrial applications at positive and negative temperature.
400 V-III-50 Hz or 460 V-III-60 Hz power supply. Other voltages by request.
Plug & Play.
Tropicalized microchanel condensation coil. High corrosion resistance coils made of Al-Mg alloy coated with epoxy-polyester paint. V-coil construction with variable speed EC axial fans.
Stainless steel coil and aluminum fins with variable speed EC fans for temperature control.
Semi hermetic screw compressor. Variable speed motor with permanent magnets. Low temperature economizer (optional).
Hydraulic circuit in stainless steel with variable flow glycol pump unit (optional).
Refrigeration circuit
Electronic expansion valves. 1 stage vertical oil separator. Brazed plate stainless steel evaporator.
Hydraulic circuit in stainless steel with variable flow glycol pump unit (optional).
ElectroFin coating for corrosion protection for guaranteed maximum protection in a saline environment.
Shell and tube heat exchanger.
Stainless steel tube condenser and aluminum fins.
Hydraulic unit with backup pump.
Variable flow rate.
Adiabatic condensation.
Partial heat recovery (20 %).
Total heat recovery (80 %).
ECO in compressor (negative temperature models).