INTARCON manufactures cooling units for cold rooms, refrigerated sotres and other cooling procedures for commercial and industrial purpose.
The Commercial series comprises self-contained compact units and split units for cold rooms, as well as specific designs for special applications like meat, fruits and bottled wine storage.
The Industrial series covers medium cooling capacity units for industrial applications, compact and split units for large cold rooms, evaporating units, refrigeration plants and glycol chillers.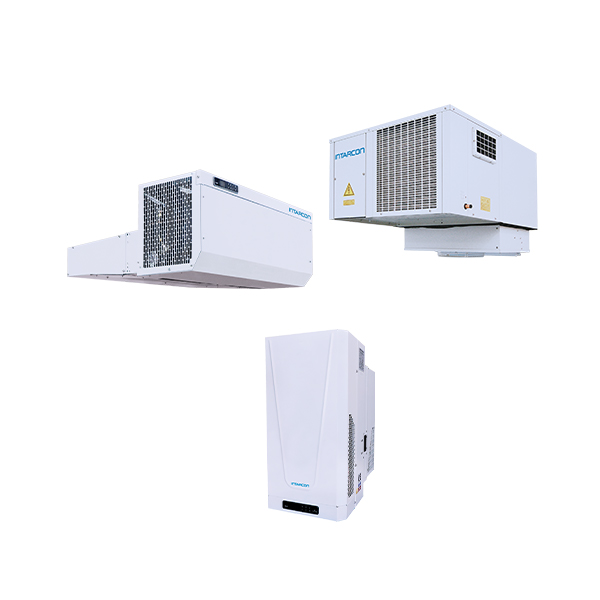 Slim monoblocks for small cold rooms.
Easy Plug & Play installation directly on the ceiling, door or wall of the cold room.
R290 ecological refrigerant.
Split system for small and medium sized cold rooms. Low noise and relative condensation.
Meat preservation and maturation, high humidity conservation applications, and wine cellar units with external vapour humidification kit.
Tropicalised design, low noise and centrifugal fan.
Ecodesign certification.
Electronic and multi-service controller versions.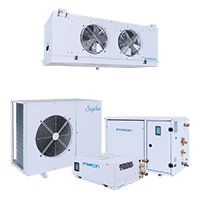 R290 water condensed motor evaporators.
Units condensed by water up to 50ºC.
Air coolers with hydraulic group.
Hermetic piston and scroll compressors.
High, medium, negative temperature, high relative humidity and bi-temperature.
Easy wall installation.
Tropicalised design for ambient temperature up to 45 ºC.
Compact plant with axial or centrifugal condenser.
Duo/trio reciprocating or scroll compressors.
Optimized designs for each refrigerant.
Units equipped with expansion and control valves.
Optimized designs for R134a, R449A and glycol.
High, medium, negative temperature and deep freezing.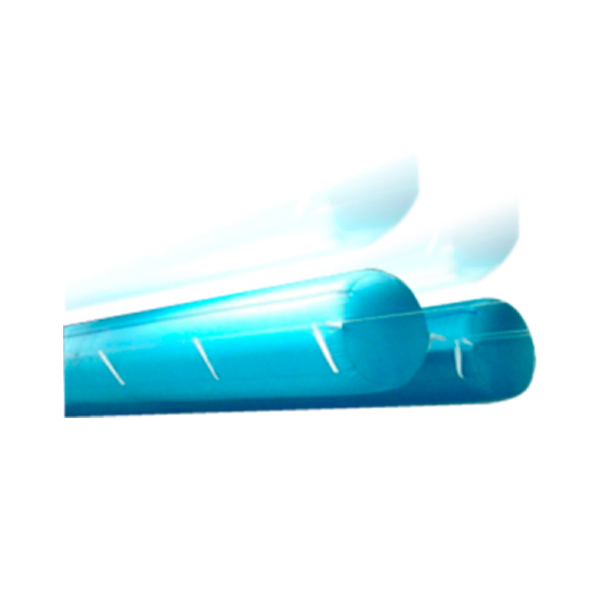 Diffusion in cold rooms.
Air diffusion in working rooms.
Air diffusion in drying rooms.
Air purification and sterilization in work rooms.
High efficiency filtration units.
Air renewal units with active cold recovery
Operation with glycol water and reduced R290 refrigerant charge.
Hermetic piston, scroll and semi-hermetic compressors.
Included hydraulic group.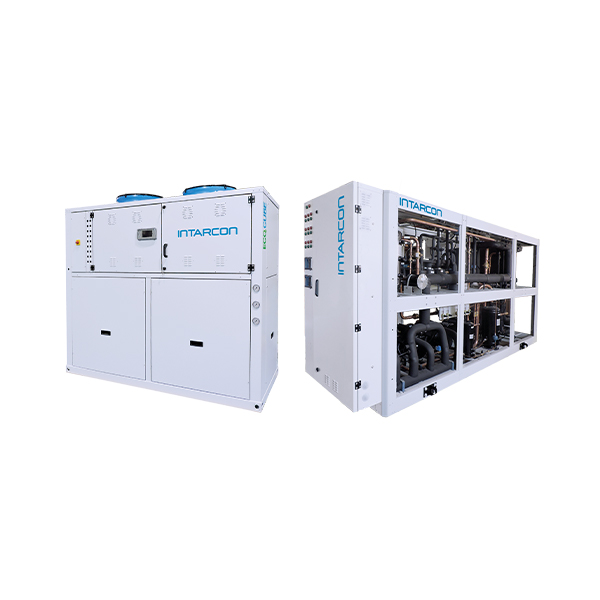 Compact plants with axial or centrifugal gas-cooler.
Compressors trio at PT and compressors duo at NT.
High performance with parallel compression.