New Commercial Catalogue 2020
INTARCON
INTARCON presents its new catalogue and rate of the Commercial Range 2020.
This new commercial catalogue is the result of a commitment by INTARCON to continue offering the most innovative solutions.
In this edition we expand the range of models R290 intarblock, and the development of the ceiling monoblock range – intartop R290, in addition to the expansion of the intarloop system.
New products in commercial catalogue:
•Monoblock for mini cold rooms:
intarblock R290 NEW
This new range of monoblock units incorporates the latest technology components in a very compact size that integrates into the wall panel of the cold room.
Its slim design allows for maximum storage space, and its lightweight structure minimizes thermal bridges and cold losses.
intartop R290 NEW
New range of roof-top monoblock units for small-size chiller and freezer cold rooms, for ceiling panel installation. It has a reduced refrigerant charge R290, less than 200 gr.
Door intarblock
Monoblock for refrigeration and freezing cold rooms, for assembly in the door panel of the cold room with optional air curtain built-in on the unit.
Split refrigeration systems for positive temperature applications, featuring a quasi-static evaporating unit with double airflow, and an axial low-noise or centrifugal condensing unit.
Meat preservation:
Quasi-static split systems are specifically recommended for unpacked meat preservation in cold rooms at temperature around 0 ºC.
Double airflow evaporating units feature fans operating at a minimum speed to emulate the natural air convection inside the cold room, just as in a static evaporating unit.
Minimum air speed prevents moisture loss from the stored goods and keeps the correct level of humidity inside the cold room to prevent bacterial growth on the meet surface.
Meat maduration (optional):
Maturation of meat requires the control of the relative humidity of the ccold room in a certain range.
Units for maturation of meat, are configured for cold rooms in the environment of 0 ºC and in the range of 40% to 95% of relative humidity.
These unit incorporate an advanced electronic regulation to control of the temperature and humidity inside the cold room, with dehumidification and humidification and functions with steam humidification of 3 kh / h capacity, consisting of: steam lances integrated in the evaporator unit, a submerged electrode generating cylinder with feed and water purge valves, and electronic relative humidity controller in the cold room.

Wine cellar refrigeration split systems with low-noise axial or centrifugal condensing unit and double-flow low-profile evaporating unit with heating function, humidification / dehumidification system and condensed water pump.
These units are also the perfect solution for the conservation of tobacco, and the refrigeration of high temperature enclosures with controlled humidity.
Expansion of the product range with new models in R134a and R449A, with the incorporation of new models in horizontal construction with R449A in medium and low temperature.
• New electronic regulation XM670K: NEW
INTARCON split system and condensing units, incorporates an advanced multifunction electronic controller as standard, including a digital remote control with the following functions: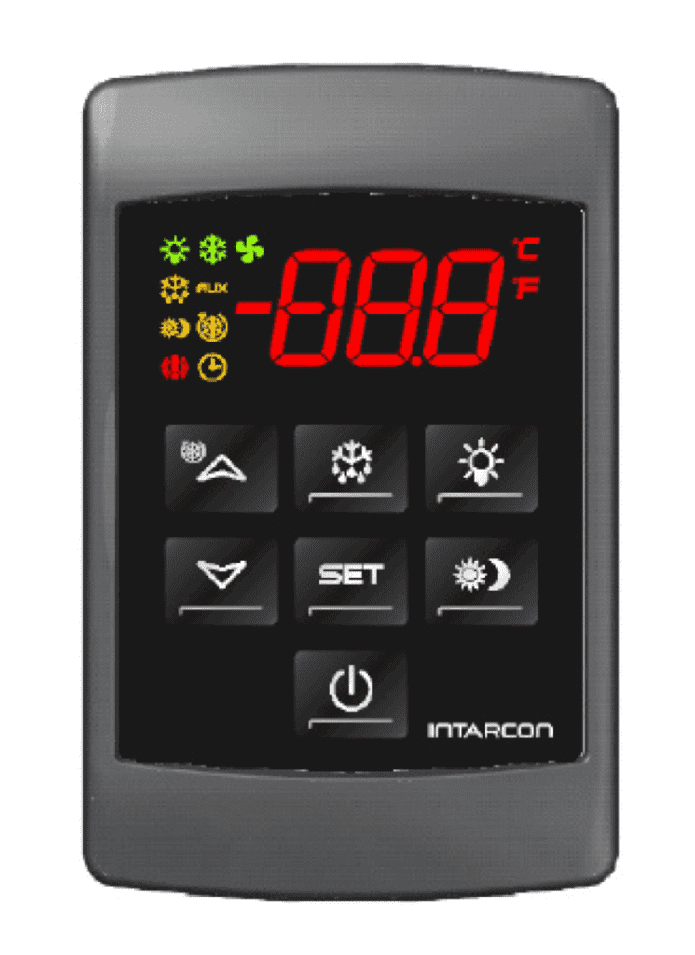 Up to 2 compressors, condenser fans motor, evaporator motor fans, liquid solenoide valve, defrost and room light.
Proportional condensation control or all/nothing condensation control.
Up to 4 temperature NTC probes (cold room, defrost, liquid and auxiliary) and pressure transducer (4-20 mA).
Maneuver to recover from fall down and maneuver to stop with gas collection (pump-down).
Standard ModBUS-RTU communication protocol with RS485 connection.
• Touch screen display VISOTOUCH – VTIPG:
New optional control available for the commercial range. Touch screen display designed to work with electronic regulation available for our commercial refrigeration units
Supplied with metal box for wall mounting.
Great versatility to adapt to any environment.
4.3" size touch screen color display.
Designed to make Dixell controllers user interface even easier, more complete, and intuitive.
High connectivity level through LAN and USB ports.
Rate effective from April 1st 2020 until new edition.