intartop R290
ultra slim monoblock
Roof-top monoblock units for small cold rooms for positive and negative temperature with R290.

Description
Ecological refrigeration
Technical features
Dimensions
Documentation
Description
Intartop R290 is a commercial monoblock units for small-size chiller and freezer cold rooms, for ceiling panel installation.
Intartop R290 compact is characterized by:
R290 natural refrigerant with high energy efficiency.
Tropicalised design for ambient temperature up to 45 ºC.
Thermostatic expansion valve.
Hot gas defrost with temperature control.
Units exempt from leak checks.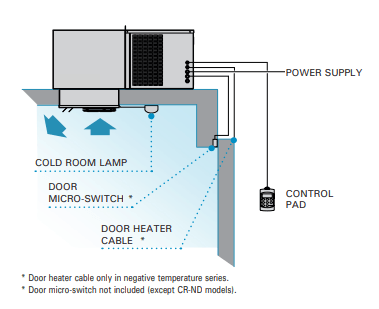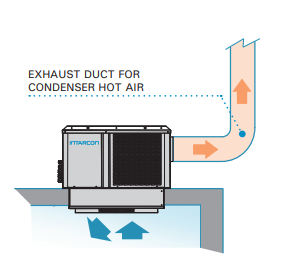 Design
This new range of monoblock units incorporates the latest technology components in a very compact size that is integrated into the roof of the cold room. Its sleek design allows for maximum storage space, and its lightweight structure minimizes thermal bridges and cold losses.
High energy efficiency
In addition to the excellent thermodynamic performance of the R290 refrigerant, monoblock units integrate low-consumption components, such as electronic fans, LED lighting, or high-efficiency compressors.
Environmental sustainability
R290 or propane is a hydrocarbon commonly used in domestic refrigeration and small commercial refrigeration applications. Thanks to its low environmental impact and excellent thermodynamic properties, R290 is the best choice in small cold stores.
Security and reliability
INTARCON monoblock units meet all safety requirements, they have a negligible R290 refrigerant charge, and feature explosion-proof components and pressure and temperature limiting devices.
230 V-I-50 Hz or 400 V-III-50 Hz power supply. Available in 60 Hz. Other voltages by request.
R290 refrigerant load, below 0.2 kg.
Hermetic reciprocating compressor.
High pressure switch.
Thermostatic expansion valve.
MCB protection.
Hot gas defrost.
Stainless steel drain pan.
Evaporation of condensed water.
Cold room LED light and micro-switch (CR-ND model).
Cold room light and micro-switch cable (CR-Y/G model).
Door heater cable.
Evaporator case made in sandwich panel, with 50 mm polyurethane insulation, internally covered in steel sheet.
Multifunction electronic control.
Option
Change to 400 V-III-50 Hz power supply (CR-Y/G models).
Door micro-switch (CR-Y/G models).
Non-return damper (centrifugal version).
Adaptation of air discharge to circular duct (CR-Y/G models).
Vertical discharge (centrifugal version).
Evaporator coil epoxy anti-corrosion treatment.