New restriction of the F-Gas regulation
Jose Miguel Molina
Two out of three refrigeration installations in supermarkets will be obsolete from last January of 2022.
With the new year, the new restriction of the European F-Gas regulation will come into effect. Medium or large supermarkets are still operating with an HFC Freon refrigeration plant (third generation refrigerants, with ODP=0, which have replaced the banned CFCs and HCFCs, but have no direct replacement, including R134a, R404A, R407 or even R449A and R448A, the latter are a combination of HFCs and HFOs.) with a cooling power of more than 40kW will become obsolete. The same applies to refrigeration furniture with built-in HFC units.
What impact does the entry into effect of the new European F-Gas regulation have on us?
This type of installation will no longer be possible. Existing installations can continue to operate, but there will be no alternative gas that can be used to upgrade them. This means that in the event of any substantial modification of the installation (extension, relocation, etc.), we will have to opt for another system and refrigerant.
How does it affect the installer?
The installer is faced with a complicated regulatory framework that must be taken into account for new installations. Not only environmental restrictions, but also the level of installation according to the safety regulation and the category of the installation according to the pressure equipment regulation will determine the choice of one system or the other. In addition, the energy efficiency component also plays an important role as one of the determining factors in the choice of the best solution for each case, due to the escalating energy prices that will keep the price of energy high.
What are the alternatives or how does it alter the use of gases?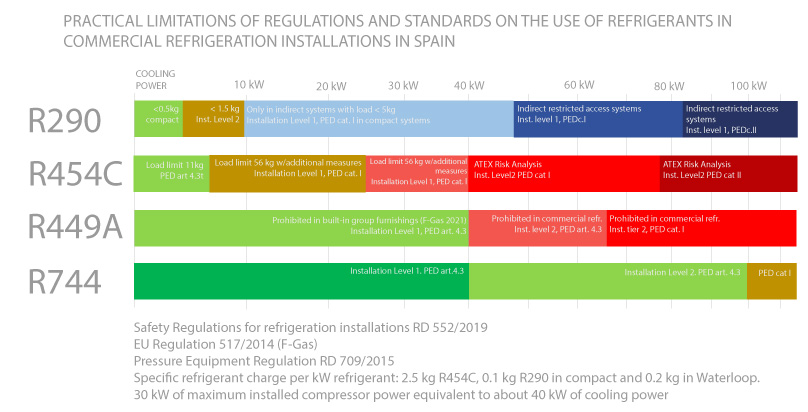 R290, for example, is relegated to small capacity circuits in a built-in unit or Waterloop. At higher power, it can also be used in the cooling plant of an indirect glycol system.
R454C (A2L) will require a risk analysis for explosive atmospheres from 25 or 30kW of cooling power. In addition, we will need to certify the pipes as pressure recipients, and the plants will have to be certified in category III or IV.
R449A can only be used up to 40 kW per circuit. From this power upwards, CO2 becomes interesting, because despite being a level 2 installation, the pressure equipment regulation does not yet apply to refrigeration lines.
At INTARCON we have solutions to adapt to the restrictions of the European F-Gas regulation and we can give you honest and impartial advice on the solution that best suits your needs.