Transcritical CO2 compact condensing units
INTARCON
For applications such as supermarkets, INTARCON offers compact transcritical CO2 condensing units with built-in gas cooler.
CO2 has become one of the most popular natural refrigerants in recent years. It is classified at safety level as A1, "non-flammable" and "low toxicity". It has excellent thermo-physical properties, although it poses difficulties due to its low critical temperature value (30.978 °C) and high pressures. It has a much higher volumetric capacity than conventional refrigerants.
CO2 transcritical cycle
Transcritical cycles are those in which the compressor discharge pressure is higher than the critical pressure and therefore the refrigerant is not condensable. It consists of using only CO2 refrigerant in the equipment and cooling it above the critical point, without phase change during the cooling process. It is common for these systems to work with high compressor discharge temperatures, due to the need to reach high pressures (approximately 95 bar) in the "gas cooler" in order to exchange heat with the environment.
Performance improvements
A transcritical system has the efficiency trade-off of having to compress the steam generated at the outlet of the Gas-Cooler, in addition to the large compression ratio to overcome. This is aggravated with a high outside temperature, as more steam is generated.
In order to obtain working efficiencies similar to those of conventional fluids in transcritical systems, they are used:
Parallel compressor
Subcooler
Ejector
Adiabatic gas-cooler
Heat recovery

Transcritical CO2 compact condensing units – ECO2CUBE
INTARCON's new compact CO2 transcritical condensing units with built-in gas cooler for simultaneous production of positive and negative cooling in commercial applications are available in a power range from 30 to 100 kW. The ECO2CUBE condensing units stand out for:
High reliability and energy efficiency in hot climates.
Environmental sustainability.
Fast Plug & Play installation.
F-Gas 2022 compliant.
Main advantages of ECO2CUBE condensing units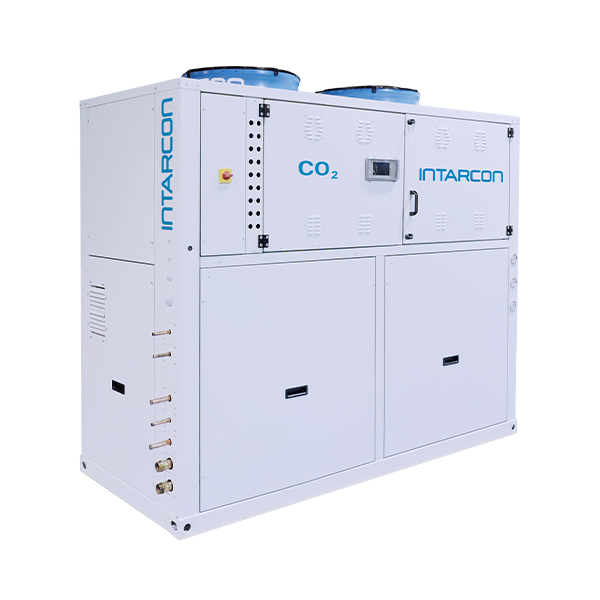 All components are duplicated or have a backup system in case of failure.
Compact design: ECO2CUBE offer high performance in a small space, integrating all cooling elements in a compact design.
Outdoor or machine room installation ECO2CUBE can be installed in outdoors, or in the machine room, with a reduced air discharge flow through ducts to comply with the most stringent municipal regulations.
Operational reliability : System dimensioned for operation at high ambient temperatures due to parallel compression. To ensure continuity of operation, all components are duplicated or backed up in case of failure.
High efficiency: Parallel compression ensures high efficiency of the transcritical CO2 cycle under extreme ambient temperatures.
Plug & Play: Each ECO2CUBE unit is factory tested and adjusted prior to shipment. They are provided with leak test and pressure test (ASP) certificates for the assembly and do not require ASP certification on site. Refrigeration lines up to 100 kW can be executed in standard thick reinforced refrigerant copper pipe without ASP classification