New 2021 Commercial Range
Manuel Ramos
INTARCON presents its new Price List of the Commercial Range 2021.
What's new in Commercial Range 2021:
R290 monoblock units. New compact units with high-efficiency R290 refrigerant in our known construction of door monoblock for the cold room, with very low refrigerant charge.
New CR3 models of rooftop monoblocks. We have expanded our range of compact units with new models of larger ceiling units, with axial or centrifugal condensation, for positive cold rooms up to 50 m3 and negative cold rooms up to 25 m3.
New improved models 55 and 75 at negative temperature. We have upgraded our compact and split low-temperature models to the new Tecumseh FH2 compressors, which are quieter, with higher cooling capacity and lower energy consumption.
Low refrigerant charge units exempts from leak checks. We update our range of single-phase split systems to reduce the refrigerant charge, with pre-charging up to 10 m of refrigeration lines, equivalent to less than 5 ton CO2, and are exempt from leak checks.
R290 waterloop motoevaporators. An evaporator with built-in group? This is the 100 % natural innovative solution that INTARCON proposes for cold rooms. Discover the new R290 waterloop series.
Smartest electronic regulation XM670K. A new electronic control unit that ensures the safety of the cold room, the environment and the installation, with predictive self-diagnosis, gas collection maneuver, and synchronization with other units.
Finally, INTARCON split system incorporates an advanced multifunction electronic controller as standard, including a digital remote control with the following functions: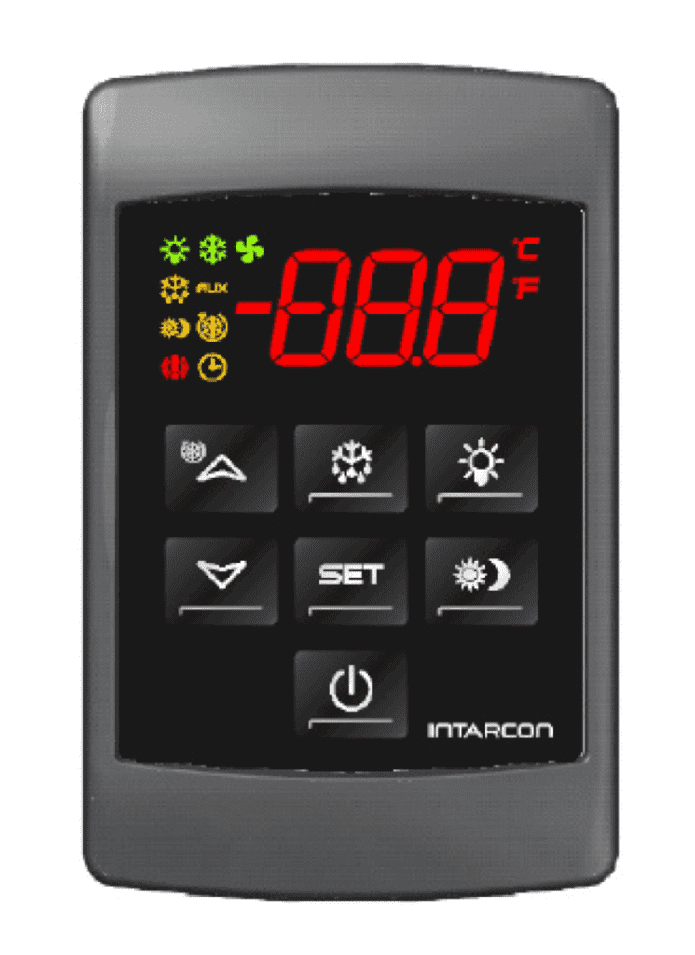 Up to 2 compressors, condenser fans motor, evaporator motor fans, liquid solenoide valve, defrost and finally room light.
Proportional condensation control or all/nothing condensation control.
Up to 4 temperature NTC probes and optional pressure transducer.
Maneuver to recover from fall down and maneuver to stop with gas collection (pump-down).
Standard ModBUS-RTU communication protocol with RS485 connection.
Self-diagnosis. The new XM electronics incorporate advanced self-diagnostic algorithms to detect anomalous operation, such as ice accumulation in the evaporator, or lack of gas. In addition, it also detects component malfunctions (defrosting resistors, fans or compressor) or probe failures, in anticipation of a potential break in the cold room.
Commercial range effective from the 1st of March 2021 until new edition.