intarCUBE INVERTER
Compact refrigeration unit
Ultra-compact, sound-insulated condensing unit with progressive capacity control for commercial refrigeration.

Description
Technical features
Options
Dimensions
Documentation
Description
intarCUBE INVERTER range has been designed for medium capacity (15 to 40 kW) commercial centralised refrigeration applications with multiple evaporator units, such as supermarkets, industrial kitchens or small industries.
The new intarCUBE INVERTER units are positioned as an efficient and safe investment, at low cost, and within the medium-term EU F-Gas regulatory framework.
Quiet and efficient operation.
Low investment and maintenance costs.
Quick installation in new or existing installations.
F-Gas 2022 and Ecodesign compliant.
INVERTER technology
Inverter control of the compressor allows progressive capacity modulation, without pulses or start-up cycles, to modulate the capacity of the condensing units from 15 % to 100 %.The INVERTER drive of one compressor is combined with the neutral band control of the other compressors to continuously adapt the cooling capacity to the demand.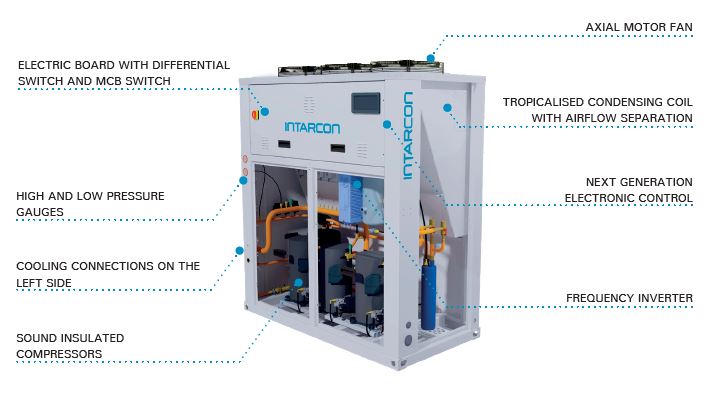 400 V-III-50 Hz power supply. Available in 60 Hz. Other voltages by request.
Scroll compressors with sound insulation on shock absorbers, internal clixon and crankcase heater, and oil level monitoring.
Inverter drive of a compressor by means of frequency variation, with progressive capacity control of the total condensing unit from 15 % to 100 %.
Condenser coil with copper pipes and aluminium fins, with air circuit separated from the compressor compartment.
Axial or EC radial condensation fans, with independent air volumes.
Refrigeration circuit equipped with high and low pressure switches, ceramic dryer filter, liquid receiver and sight glass.
Full control panel integrated in the unit, with differential, MCB protection for compressors and fans.
Certification of the condensing unit as a whole (Eco-design, pressure equipment, etc.).
Anti-corrosion coating of condenser coil.
Automatic emergency manoeuvre.
Discharge check valve (radial version).
Low voltage and phase change protection.
Heat recovery (20 or 80 % condenser heat) for hot water generation.