intarCUBE A2L approved
Compact refrigeration unit
Ultra-compact, sound-insulated condensing unit with progressive capacity control for commercial refrigeration.

Description
Technical features
Options
Dimensions
Documentation
Description
The intarCUBE A2L approved range of footprint condensing units has been designed for medium capacity centralised commercial refrigeration applications, equipped with semi-hermetic compressors and designed to operate with either R-449A refrigerant or low GWP (< 150) slightly flammable R-454C refrigerant. The new intarCUBE A2L approved units are positioned as an efficient and safe, low-cost investment, becoming a very good alternative to comply with the medium-term regulatory framework on fluorinated gases in the European Union. These equipments are characterised by:
A2L certified units.
R-449A and R-454C refrigerants.
Free of F-Gas tax (R-454C).
F-Gas 2022 and Ecodesign compliant.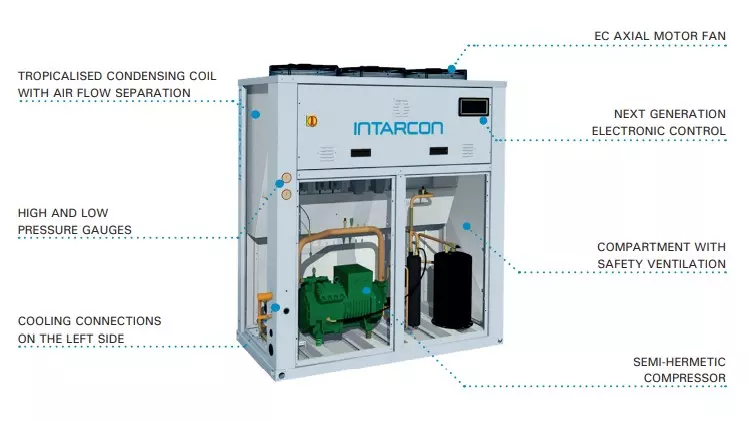 400V 3N 50Hz power supply. Available in 60 Hz. Other voltages by request.
Semi-hermetic Bitzer Ecoline compressors, with rotalock service valves, mounted on dampers, with crankcase resistance.
Compressor compartment with safety ventilation against the risk of explosive atmospheres.
Condenser coil with copper pipes and aluminium fins, with air circuit separated from the compressor compartment.
Axial or EC radial condensation fans, with independent air volumes
Refrigeration circuit equipped with high and low pressure switches, ceramic dryer filter, liquid receiver and sight glass.
Individualised electronic oil injection system per compressor (on 2-compressor models)
Full control panel integrated in the unit, with differential, MCB protection for compressors and fans.
Certification of the condensing unit as a whole (Ecodesign, pressure equipment, etc.).
CRII capacity control system on compressor.
Anti-corrosion coating of condenser coil.
Automatic emergency manoeuvre.
Low voltage and phase change protection.
Heat recovery (20 or 80 % condenser heat) for hot water generation.
Safety system for monitoring the risk of explosive atmospheres, for installation in machinery rooms.