R290 Gas
Jose Miguel Molina
What is R290 refrigerant?
Known as propane gas, R290 is a class A3 natural hydrocarbon refrigerant with a low environmental impact. This refrigerant fluid is a pure substance, with no evaporative slip and a high thermodynamic performance, comparable only to ammonia (R717) or difluoroethane (R152a).
This refrigerant has a low toxicity, but is highly flammable. Its application in Europe is currently regulated by regulations on refrigerant charge limits according to application and installation location. On the other hand, R290 refrigeration technology can be incorporated into any system, whether it is used in commercial or industrial applications.
Properties of refrigerant R290
R290 or propane gas currently stands out for its wide range of applications in both the commercial and industrial fields. This gas has practically unbeatable properties in any of its applications, due to its GWP (Global Warming Potential) = 3 and an ODP (Ozone Depletion Potential) = 0. However, on the other hand, being a class A3 refrigerant, it is a non-toxic, but extremely flammable refrigerant.
R290 has similar thermodynamic properties to R22, although certain characteristics such as capacity and working pressures are lower. Even so, it has excellent thermo-physical properties and its thermal efficiency is good for most conditions, including high ambient temperatures, where the discharge temperature is low.
R290 gas is affected by the F-Gas regulation in Europe, but it is not a refrigerant destined to die, like F-gases or HFCs. Its limitation is rather on safety and use aspects due to being a highly flammable substance.
Characteristics of refrigerant R290
Rapid evaporation of the liquid which can lead to freezing.
Vapour is heavier than air.
The theoretical efficiency in a single-stage cycle is quite high, thus corroborating its efficiency.
Low liquid density and high latent heat which means a lower refrigerant charge is required to obtain the same cooling capacity.
Low molecular mass with small polytropic coefficient leading to moderate discharge temperature, low viscosity and lower pressure drop.
However, the main drawback of R290 is its flammability (class A3). Its practical limit is very low (8 g/m3 chamber volume). This implies that the maximum allowable load in a system is low, especially when R290 is used indoors in publicly accessible premises. Here we are limited to compact and small power systems as the only acceptable solution.
Its lubricants are mineral oil, alkylbenzene and polyester.
R290 has a suitable boiling point, similar to that of R404A. Its boiling temperature at 1Atm= 1.013 bar is -42.1ºC.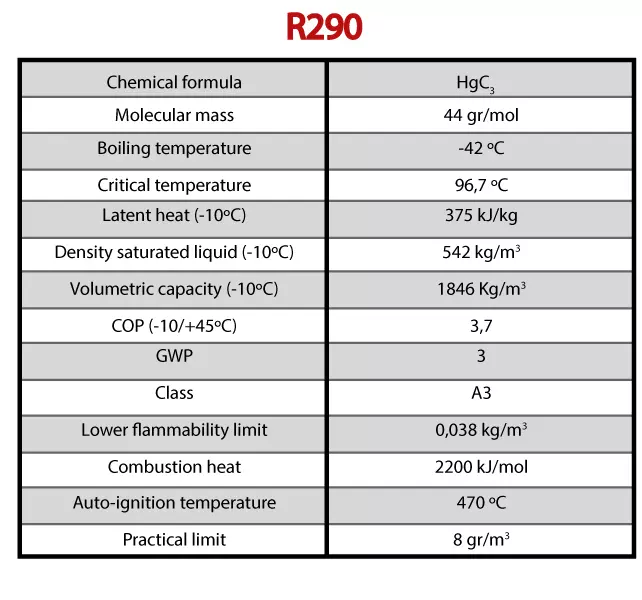 Natural, environmentally friendly and efficient refrigerant. R290 or propane gas is a natural refrigerant and has a low cost due to its abundance. In addition, it has high energy efficiency, thanks to its thermodynamic properties and high performance, which will lead to cost reduction.
Climate adaptability. R290 gas has been shown to be better adapted to hot climates than HFCs.
Performance. Their smaller displacement compressors further increase efficiency in industrial equipment, while also delivering high performance in commercial applications.
Wide range of application. R290 refrigerant is fully suitable for both commercial and industrial equipment and systems.
Good compatibility with other components.
Reduced charge of R290 refrigerant. Obtaining a higher efficiency and performance than other refrigerants with only 40% charge.
Long-term solution free of fluorinated refrigerants. This natural refrigerant is a safe bet for the long term, as it has no future environmental restrictions and is free of refrigerant taxation.
High flammability.
Additional cost for security systems.

Applications and load limits
R290 or propane gas has no limitations in terms of applications. This gas has optimum properties in any installation or equipment, regardless of the needs to be covered.
The performance range covers up to a cooling capacity of 811.3 kW with a low refrigerant charge, in this case in industrial applications with an indirect system from the intarWatt range. In industrial applications, the permissible refrigerant charge limit is linked to the installation situation with regard to the environment and installation conditions.
Whereas, in commercial applications, the compact R290 units developed by INTARCON have a low refrigerant charge of less than 0.5 kg (limit allowed in commercial applications) and high performance with a low refrigerant charge.
Also, propane or R290 gas is successfully used in small compact air-conditioning and refrigeration equipment, such as cold room monoblocks and refrigerated furniture with built-in units. Another recent application is the use of R290 in systems with indirect condensation, waterloop systems, for which several compact waterloop condensing units and equipment have recently been developed and are being successfully used in commercial refrigeration applications such as small supermarkets or industrial kitchens.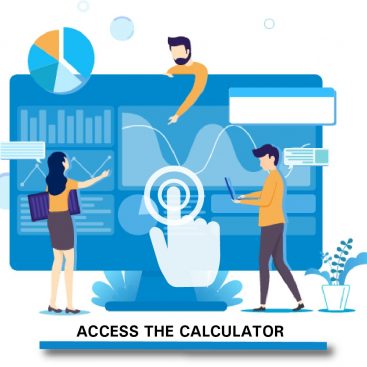 Currently the regulations applicable to R290 or propane gas are:
Regulation (EU) No 517/2014 of the European Parliament and of the Council of 16 April 2014 on fluorinated greenhouse gases. "F-Gas Regulation".
European Standard (EU) EN-378:2017, concerning refrigerant charge limitations in outdoor installations, or engine room.
Royal Decree 138/2011, of 4 February, approving the safety regulations for refrigeration installations and their complementary technical instructions.
Royal Decree 1042/2013, of 27 December, approving the
Regulation on the Tax on Fluorinated Greenhouse Gases.
Law 6/2018, of 3 July, on the General State Budget for 2018.
Article 85 (amendment of the previous regulation).
Royal Decree 115/2017, of 17 February. Regulating the marketing and handling of fluorinated gases and equipment based on them, as well as the certification of professionals who use them and establishing the technical requirements for installations that carry out activities that emit fluorinated gases.