intarCUBE
Glycol chillers
Chillers of compact construction and outdoor or indoor installation for glycol or brine.

Description
Technical features
Options
Dimensions
Documentation
Description
Glycol or brine footprint chiller, in compact body construction and galvanised steel structure in polyester paint for installation outdoors or in a machine room. The intarCUBE HFC footprint chillers are characterised by:
Low refrigerant charge.
No need for machine room.
Plug & Play system.
Optimised compact system with minimum maintenance.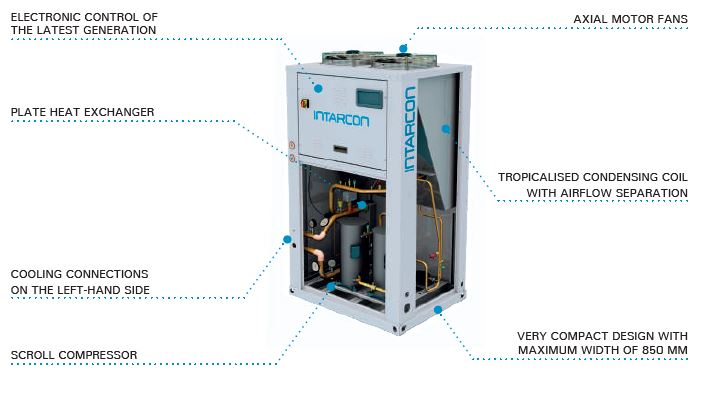 400 V-III-50 Hz power supply. Available in 60 Hz. Others voltages by request.
Rack of hermetic reciprocating or scroll compressors mounted on dampers, acoustically insulated, with rotalock service valves, internal clixon, crankcase resistor, and check valves and discharge silencer (on models with hermetic reciprocating compressor).
Condensing coil with large exchange surface, in copper tubes and aluminium fins, with tropicalised dimensioning for ambient temperatures of 45 ºC.
Low consumption axial motor fans with variable speed, with internal electronic protection, mounted on nozzle, dynamically balanced propellers and external protection grilles.
Modulating condensing pressure control.
Copper brazed stainless steel plate heat exchanger with frost protection.
Cooling circuit in annealed copper tube equipped with high and low pressure switches, pressure transducers, service valves, thermostatic expansion valve, sight glass and filter.
Hydraulic circuit made of copper tube with flow switch, thermometers, air vent and drain valve.
Electric power and control panel, with general differential and magnetothermal protection for compressors, fans and hydraulic pump.
Electronic control with control of power stages, high and low pressure transducers, anti-frost control and digital control interface.
Integrated hydraulic unit with glycol circulating pump, shut-off valves, expansion vessel, safety valve, mesh filter, air vent and drain valve.
Anti-corrosion coated coil.
Electromechanical emergency control by means of adjustable thermostat, with manual or automatic activation in case of failure of the electronic controller.