R290 Sigilus
R290 chiller
Chiller in silent air-condensed construction with glycol, water or brine and a low charge of R290.

Description
Technical features
Options
Dimensions
Documentation
Description
R290 Sigilus is the range of chiller in silent air-condensed construction for commercial refrigeration applications, using a low propane charge as the primary refrigerant contained in the chiller, and water or glycol as the secondary refrigerant for cold transport. These chiller plants are characterised by:
A tropicalised design for ambient temperatures of 45°C.
100% factory tested equipment.
Acoustically insulated scroll compressor.
Built-in hydraulic unit (optional).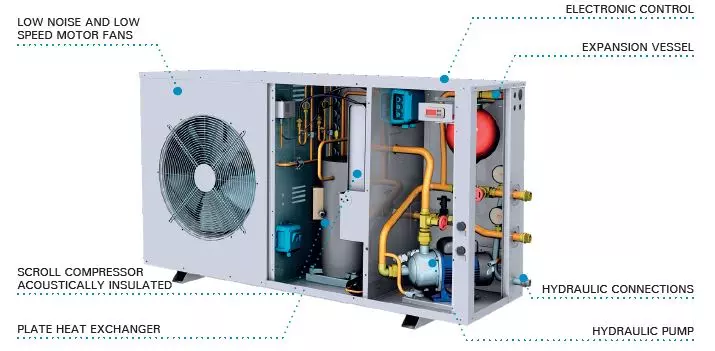 400V 3N 50Hz power supply. Available in 60 Hz. Others voltages by request.
R-290 refrigerant.
Hermetic scroll compressor mounted on dampers and acoustically insulated, with internal clixon and crankcase heater.
Large surface condensing coil, made of copper tubes and aluminium fins, with tropicalised sizing for ambient temperature of 50 ºC.
Motor fan with proportional condensing pressure control by means of speed variation.
Refrigeration circuit made of annealed copper tube equipped with ATEX high and low pressure switches, safety valves and filter.
Hydraulic circuit made of copper pipe, with threaded connections, fill/drain valve, air vent, flow switch, thermometers and inlet/outlet pressure gauges.
Electric power and control panel, with general differential protection, motor fan circuit breaker and compressor circuit breaker and thermistor.
Electronic control with digital control interface.
Acoustic and light alarm.
Leak detector in the compressor compartment.
Built-in hydraulic module.
Protective grille for external coil.
Polyurethane coating on the condensing coil.
Low voltage and phase change protection.