What are monoblocks refrigeration units?
Jose Miguel Molina
Monoblock refrigeration units are equipments where the condensing unit and the evaporating unit are in the same construction.
The refrigeration cycle of any refrigeration equipment or system has several processes: compression, condensation, expansion, and evaporation. This refrigeration cycle can be implemented in split systems, where the condenser is formed by one unit and the evaporator by another, requiring piping in the installation, or on the other hand it can be implemented in a compact system, such as monoblocks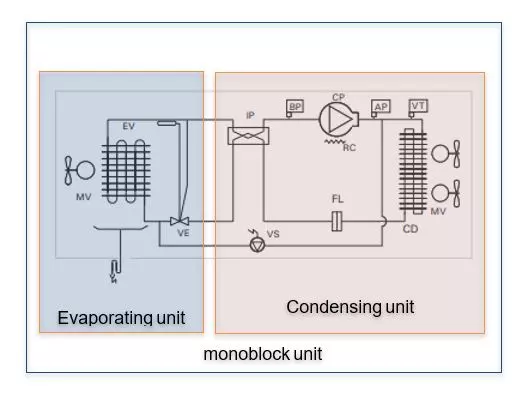 Monoblock types according to their application.
Depending on their application, we can talk about commercial or industrial monoblocks. Commercial monoblocks, as their name suggests, are designed for small and medium-sized refrigeration and preservation cold rooms, and can be installed on the wall, ceiling or door of the cold room. Industrial monoblocks, on the other hand, are designed for large storage and freezer rooms or loading bays and are installed on the wall.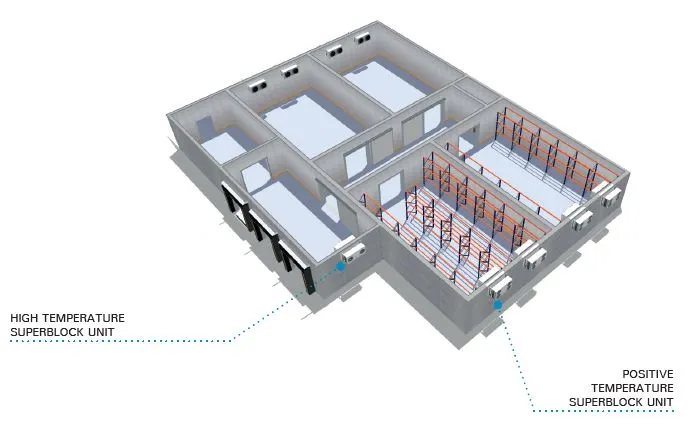 Monoblock types according to their operating range.
Depending on the temperature at which the equipment operates, we can find monoblocks of:
High temperature: Equipment designed for high temperature preservation cold rooms, workrooms, prechambers and refrigerated loading docks.
Positive temperature: Equipment designed for cold rooms for the preservation of generic products at positive temperature.
Negative temperature: Equipment designed for cold rooms at negative temperature for the preservation of frozen products.
Advantages of installing a monoblock.
The installation of a monoblock unit has the following advantages:
They are available in R-290, a highly energy-efficient natural refrigerant.
It requires less installation time as it is a single unit and does not require the installation of refrigerant or water lines for the installation.
It does not need a machine room, as it is installed in the same location as the cold room.
They require minimum maintenance and a reduced refrigerant charge.
They are Plug & Play installation equipment, tested and charged in the factory, ready to install.
They have multiple installation options: on the wall of the cold room, on the door or on the ceiling.


Mounting on the cold room panel with mounting frame for industrial monoblocks.
The monoblock units include (depending on the series) a 100 mm thick insulating pad for window mounting on the cold storage cold room panel, which facilitates the installation of the unit and improves the fastening to the cold room wall.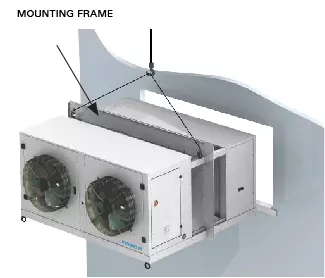 Monoblocks with low-load technology of R290
Propane, or R-290, is a hydrocarbon used as a refrigerant in commercial and industrial refrigeration equipment. It has a low environmental impact and excellent thermodynamic properties.
INTARCON industrial monoblock units contain a low flammable refrigerant charge, class A3. In accordance with the European standard EN 378, the units are suitable for industrial premises with restricted access, and the practical refrigerant charge limit of 8 g of R-290 per m3 of room volume must be respected for each unit. If necessary, in order to split the refrigerant charge, multiple units can be installed in the same room. If the refrigerant charge in a unit is exceeded, the designer must carry out a corresponding risk assessment study and take appropriate protective measures.
For example, a 12 °C working room of dimensions 10 m x 15 m x 4.5 m, with a volume of 675 m3, and a cooling requirement of 24 kW, allows a maximum load per unit of 5 kg. In this case, an ACH-KD-3 071 unit can be selected, which contains less than 4 kg of R-290.