R290 intarWatt – Full INVERTER
R290  chillers
Glycol, water or brine chillers with reduced R290 load and Full INVERTER compressors.

Description
Technical features
Options
Dimensions
Documentation
Description
Glycol chillers for commercial and industrial refrigeration applications with reduced R-290 load and full INVERTER compressors. Our R290 intarWatt chillers are characterised by:
Incorporating Full INVERTER compressors.
Natural Refrigerant R-290.
High energy efficiency.
Easy installation.
What is the Full INVERTER system?
The Full INVERTER system provides precise control over the glycol supply temperature, in the face of a variable refrigeration demand. This system controls sequentially and simultaneously the capacity of the compressors, varying the motor speed from 30 to 70 Hz, and avoiding starts and stops, with significant energy savings.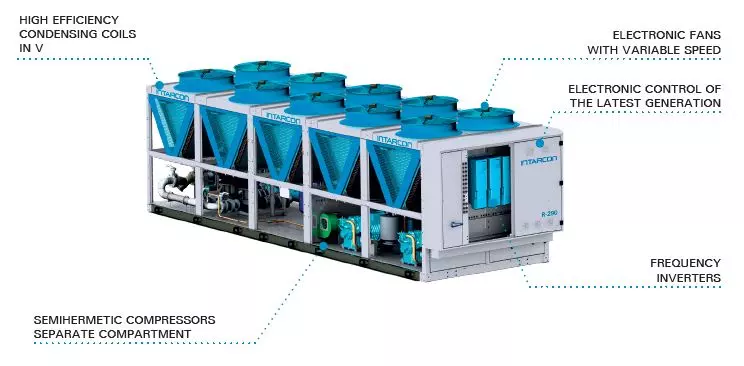 400V 3N 50Hz power supply. Available in 60 Hz. Others voltages by request.
Reduce refrigerant charge of R-290.
Self-supporting body made of galvanised sheet steel with polyester weatherproof paint.
Semihermetic R-290 compressors with unloaded start-up, with ATEX class crankcase heater, with Inverter drive in each compressor (Full INVERTER).
Cooling circuit made of annealed copper tube with soldered connections, filter drier, ATEX high and low pressure switches, pressure transducers and temperature probes, and ducted safety valve.
Microchannel condenser coils with Polyester Powder Coating treatment.
Variable flow electronic fans.
Stainless steel plate evaporators with electronic expansion valve.
Hydraulic circuit made of copper pipe with threaded connections, fill/drain valve, air vent, flow switch, thermometers and inlet/outlet pressure gauges.
Watertight electrical control and power panel with independent protection for compressors, fans and pumps.
Programmable Emerson electronic control unit with refrigeration control with floating set point (external signal 0-10 V), condensing fan control with floating set point, pump control, external signal for Silence mode, alarm light and acoustic leak detection light.
Partial heat recovery by plate heat exchanger (on request).
Total heat recovery by parallel condensation on plate heat exchanger, with proportional
3-way valve (on request).
Kit for low outdoor temperature operation (< -10ºC) with pressure control valves, 5L liquid receiver, electrical panel heating.
Coil made of copper microtube and aluminium fins, with optional polyurethane corrosion protection.
Hydraulic group with glycol circulating pump, expansion vessel, safety valve, mesh filter, thermometers and pressure gauges, air vent, drain port and service valves.
Standby pump.
Electronic controller and spare driver.
Separate compressor compartment with leak detector and ATEX extraction fan.