Description
Technical features
Options
Dimensions
Documentation
Description
Double-flow evaporating units, in a low-profile design, with built-in control valves, built in aluminium with polyester paint. The double-flow evaporating units are characterised by:
High-efficiency batteries.
Expansion and solenoid valves.
100 % factory tested and adjusted units for the highest performance.
 Prewired electronic control (optional).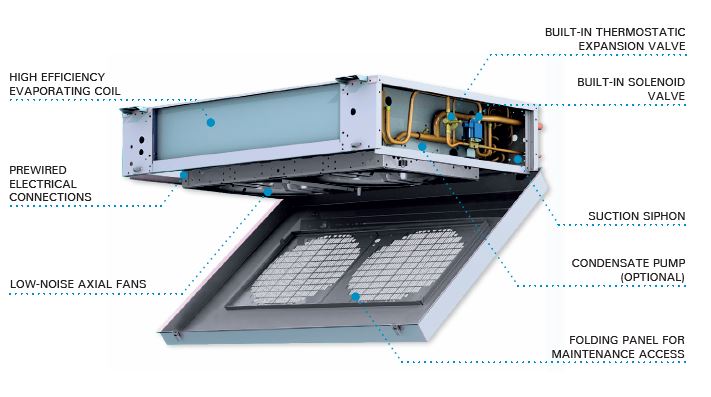 230V 50Hz power supply. Available in 60 Hz. Other voltages on request.
High efficiency coils, in copper pipes and aluminium fins, with 4 or 6 mm fin spacing.
Built-in solenoid valve in liquid line and built-in adjustable thermostatic expansion valve.
Ready-to-solder cooling connections, with built-in suction trap.
Air defrost.
Electrical heater defrost.
Electronic expansion valve.
Electronic controller with fan control relays, solenoid coil, resistors, cold room and defrost temperature probes, with 5 m of electrical interconnections and 3 m supply cable.
EC fans.
Anti-corrosion coil coating.
Built-in condensate pump.
G3 filters on fans.
Humidification / dehumidification / heating kit.