Description
Technical features
Options
Dimensions
Documentation
Description
Industrial cubic type evaporating units, with built-in control valves and control board, for positive, negative and high temperature cold rooms, built in galvanised steel structure and bodywork with thermosetting polyester coating. These equipments are characterised by :
High efficiency coils.
Expansion and solenoid valves, and suction siphon integrated.
100 % factory tested and adjusted units for the highest performance.
Double condensed liquid pan, insulated in low temperature models.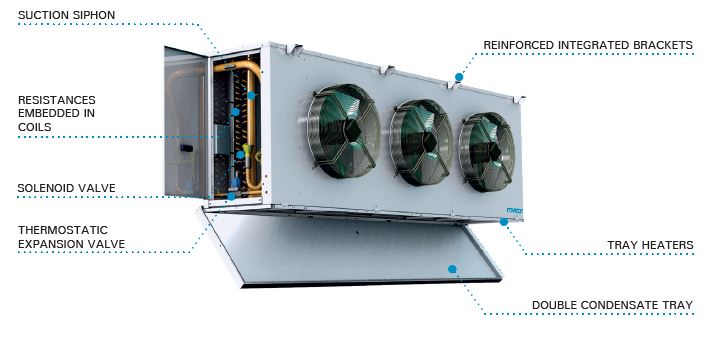 400V 3N 50Hz power supply. Available in 60 Hz. Other voltages on request.
Air defrost.
Air-cooled high efficiency coils, in copper pipes and aluminium fins, with 4, 5, 7 and 10 mm fin spacing.
Double stainless steel draining pan and insulation for negative temperature.
Built-in solenoid valve in liquid line and thermostatic expansion valve.
High-flow axial motor fans operating at 1300 rpm.
Ready-to-solder refrigeration connections, with built-in suction oil trap.
Flexible drain pipe heater (only for negative temperature models).
Electrical defrost heater inside the coil and over the drain pan.
Hot gas defrosting.
Electrical expansion valve.
Control and power panel with electronic microcontroller and digital display, with differential protection MCB switch for heaters and fans, 6 relays for control, cold room and defrost temperature probes, and operation LEDs.
Built-in humidification / deshumidification / heating kit.
Anti-corrosion coil coating.
Long range air stream fan.
Fan collar heater.
ATEX fans.
Textile ducts Warm-up.