Description
Technical features
Dimensions
La documentation
Description
Vertical-mounted evaporating units designed for freezing tunnels, built in galvanised steel structure and bodywork with thermosetting polyester coating. These equipments are characterised by:
High efficiency coils.
Expansion and solenoid valves as standard.
100 % factory tested and adjusted units for the highest performance.
Easy maintenance access and cleaning.
Static available pressure: between 100- 120 Pa.
400 V-III-50 Hz power supply. Available in 60 Hz. Other voltages on request.
Air-cooled high efficiency coils, in copper pipes and aluminium fins, with 10 mm fin spacing.
Double stainless steel draining pan with easy access.
Electrical heater defrost with heaters inside the coil and in the drain pan.
Solenoid valve in liquid line and thermostatic expansion valve as standard.
Flexible draining pan heater cable.
High-flow axial motor fans operating at 1300 rpm and available static pressure up to 120 Pa.
Ready-to-solder refrigeration connections, with suction trap air oil trap as standard.
Adjustable height in 3 different positions to adapt to several models of carts.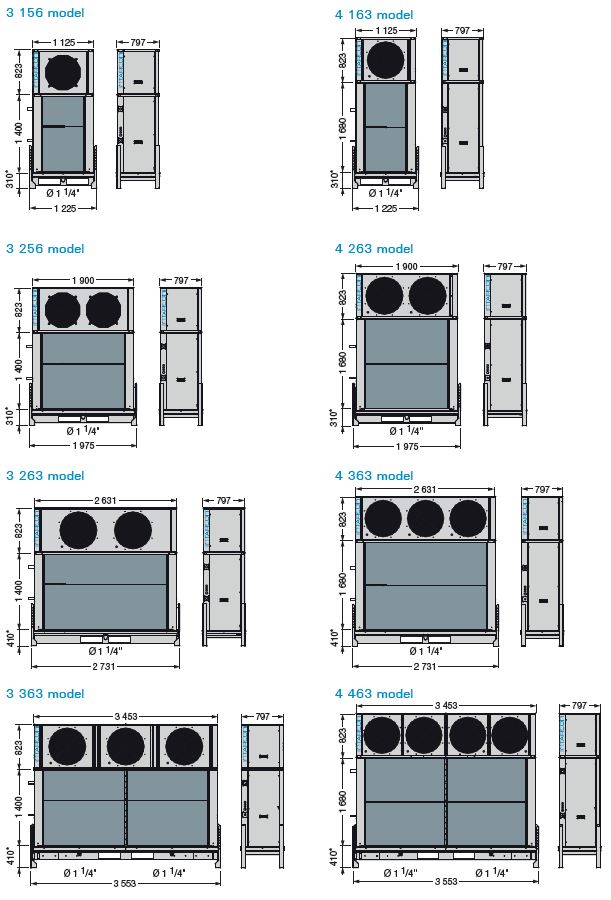 * Height adjustable with 3 support positions to adjust the height to the pallet or trolley. The UKV series supports are configurable in 3 possible heights: 50, 100, 150 mm, in order to adapt to the different types of trolleys.