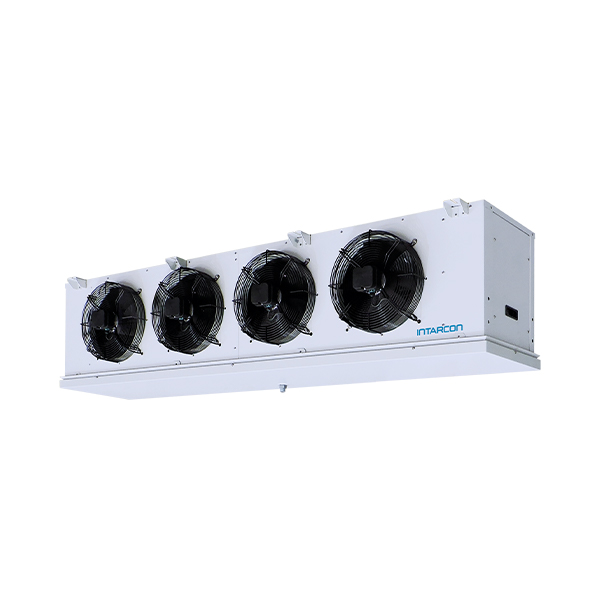 Industrial cubic type
Air-cooler
Industrial cubic type air coolers operating with glycol water or brine for refrigeration at positive or negative temperature.

Description
Technical features
Optional
Dimensions
Documentation
Description
Industrial cubic type air cooler units with glycol water are specially designed to meet a wide range of power needs. These units comprise solenoid valve and prewired electronic control. The structure and bodywork are made of pre-lacquered and galvanised stainless steel.
They are particularly suitable for medium size cold rooms for medium and low temperature, with 5 mm fins and a range of power of 3,9 to 23,6 kW for medium temperature, and 1,6 to 9,9 kW for low temperature.
400 V-III-50 Hz powe supply. Available in 60 Hz. Other voltages by request.
In-built solenoid valve.
High performance cooling coil, with 5 fins.
Optimised hydraulic circuit for glycol water.
Removable stainless drain tray for condensed water.
Flexible drain resistance (for low temperature models).
Air defrosting system or, as an option, electric defrosting system by imbricated resistances either in coil and/or in condensation drain-tray.
Long stream (1300 rmp) axial motor-fans.
Pre-wired electronic control.
Glycol water system.
Thread hydraulic connection.
Electric defrost.
Anticorrosive coating in coil.
Filters in motorfans.
Humidifying kit.
Heating & dehumidification kit.
Long range streamer.