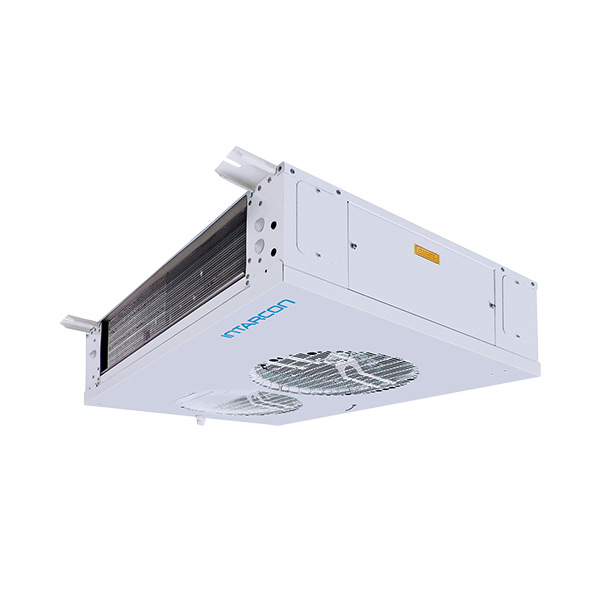 Double flow
Double air flow
Double air flow air coolers operating with glycol water or brine for refrigeration at positive or negative temperature.

Description
Technical features
Optional
Dimensions
Documentation
Description
INTARCON Roof-top air coolers, with double air-flow and glycol water, specially designed to meet a wide range of power needs. These units comprise solenoid valve and prewired electronic control.
They are particularly suitable for working rooms or any other space needing a minimum air flow, since they feature low-noise fans


230 V-I-50 Hz power supply. Available in 60 Hz. Other voltages by request.
In-built solenoid valve.
High performance cooling coil, with 5 or 6 mm fins.
Optimised hydraulic circuit for glycol water.
Removable stainless drain tray for condensed water.
Air defrosting system or, as an option, electric defrosting system by imbricated resistances either in coil and/or in condensation drain-tray.
Low-noise axial motor-fan.
Pre-wired electronic control.
Glycol water system.
Thread hydraulic connection.
Defrosting Electric resistances, imbricated either in coil and/or in drain-tray.
In-built condensate pump.
Anticorrosive coating in coil.
Filters in motorfans.
Humidifying kit.
Heating & dehumidification kit.