Sigilus
Low noise condensing units
Low noise condensing units for positive and negative refrigeration.

Description
Technical features
Options
Dimensions
Documentation
Description
Low noise condensing units for positive and negative refrigeration with hermetic alternative or scroll compressor with noise insulation and low speed axial motor fan.. These units are characterised by:
Tropicalised design for high ambient temperature up to 50 ºC.
Multi-service version with VRC cooling capacity modulation system.
Liquid injection system for compressor refrigeration.
Installation without electrical board (-N version)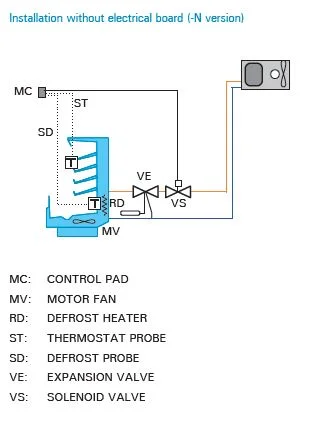 Versions
-N version: Without electrical board. Designed for on/off operation depending on the suction pressure (pump-down). With electrical board as an option. Electronic controller to manage the condensing unit and the evaporator built-in solenoid valve as an option.
-V version (multi-service): The multi-service version features VRC system to adjust the refrigerant flow to the demand of the evaporators, keeping the pressure constant in suction the line. The VRC system is composed of a set of pressure and temperature control valves to progressively modulate cooling capacity from 100 % to 10 % of its nominal capacity, while reducing energy consumption and preventing compressor overheating.
-S version (scroll). Version designed with scroll compressors.
230V 50Hz or 400V 3N 50Hz power supply. Available in 60 Hz. Others voltages by request.
R-134a or R-449A refrigerant, other refrigerants by request.
Reciprocating hermetic or scroll compressor, acoustically insulated with discharge muffler, mounted on shock absorbers, with crankcase heater and internal klixon.
Large-surface condensing coil made of copper tubes and aluminium fins, with tropicalised dimensioning for ambient temperatures up to 50 °C.
Low speed axial motor fan.
Refrigeration circuit equipped with high and low pressure switches, ceramic filter and sight gauge.
Digital control of condensation pressure with the optional electrical board, and all-nothing condensation control in condensers without electrical panel.
Proportional control of condensing pressure through fan speed variation (included from MDF-NY-2086 and MDF-NG-1038 without electronic control).
Full control and power board with compressor and motor fan protection.
Liquid injection system for negative temperature models with R-449A.
Change to 400V 3N 50Hz power supply.
Built-in oil separator (already included in -V version).
Built-in solenoid valve with body and coil (except -V version).
Anti-corrosion coil coating.
Coil protection grille.
Proportional condensation control by fan speed variator (single-phase 1 series).
Control and power panel with electronic control unit for management of condenser and evaporator (except BDF-NG-0 018 model).
– Larger sized multifunction electronic control