Water-cooled condensing unit
Condensation by a water circuit
Commercial refrigeration system.

Description
Technical features
Optional
Dimensions
Documentation
Description
Water-cooled condensing units for positive and negative temperature refrigeration, with very compact size and quiet operation, designed for on-wall or floor installation.
Indirect condensation by a water circuit.
Low noise level.
Simple installation.
Reduced refrigerant load.
According to F-Gas.
Mural, wall or floor installation.Waterloop series motor condensers can be installed on the furniture, on the floor or anchored at the wall.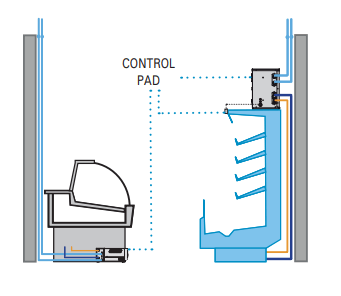 Rotary compressors
Hermetic rotary compressors provide greater reliability, lower noise and maximum design flexibility.
Very quiet compressors
Scroll compressors Copeland, are characterized by their great robustness and reliability of operation, and being cooled exclusively by the refrigerant gas, allow effective soundproofing.
230V 50Hz or 400V 3N 50Hz power supply. Available in 60 Hz. Other voltages by request.
Bodywork in prepainted galvanized steel sheet, with noise insulation, with removable front panel for access to the compressor and the electrical panel.
Acoustically insulated Scroll compressor, mounted on shock absorbers.
Rotary compressor (MDM-P / BDM-P).
Stainless steel brazed plates heat exchanger. Cooling circuit with ceramic dryer filter, sight glass, HP and LP and services valves.
Hydraulic condensation circuit made of copper pipe with threaded connections.
Electrical control panel with differential thermomagnetic protection.
Liquid injection system for negative temperature models with R-449A.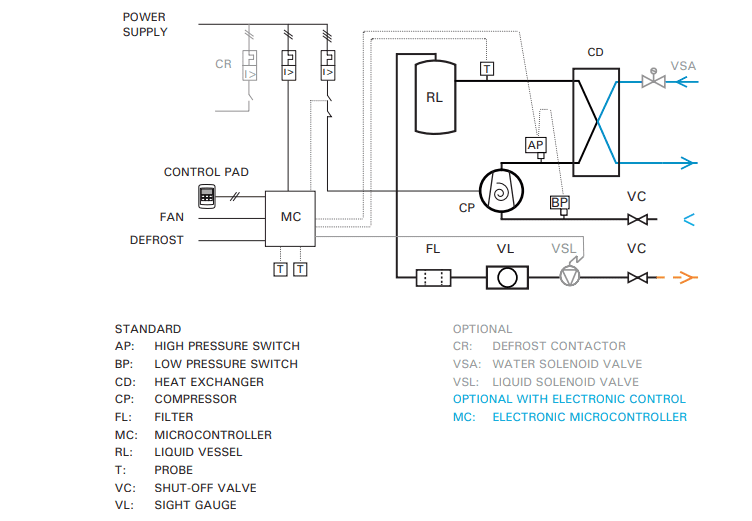 Change to 230V 50Hz power supply.
Electronic control for evaporator and compressor with temperature probes and control suitable for local or remote control.
Refrigerant pre-load for 5 m piping.
Built-in liquid solenoid valve with body and coil.
Water solenoid valve.
Flow control manual valve.
Glycol water condensation.