Water-cooled condensing unit
Condensation by a water circuit
Commercial refrigeration system.

Description
Technical features
Optional
Dimensions
Documentation
Description
Grupos frigoríficos condensados por agua para refrigeración a temperatura positiva, de tamaño muy compacto y silencioso, diseñados para la instalación de pared, suelo o sobre el servicio frigorífico.
Condensación indirecta en circuito de agua.
Muy bajo nivel sonoro.
Fácil instalación.
Reducida carga de gas.
Conforme a F-Gas.
Instalación mural, pared o suelo
Las motocondensadoras de la serie
waterloop o
grupos condensados por agua se pueden instalar sobre y bajo el mueble, o bien, ancladas en la pared.

Compresores rotativos
Los compresores rotativos herméticos aportan una mayor fiabilidad, menor ruido y la máxima flexibilidad de diseño.
Compresores muy silenciosos
Los compresores scroll Copeland, se caracterizan por su gran robustez y fiabilidad de funcionamiento, y al estar refrigerados exclusivamente por el gas refrigerante, permiten una eficaz insonorización.
230 V-I-50 Hz or 400 V-III-50 Hz power supply. Available in 60 Hz. Other voltages by request.
Bodywork in prepainted galvanized steel sheet, with noise insulation, with removable front panel for access to the compressor and the electrical panel.
Acoustically insulated Scroll compressor, mounted on shock absorbers.
Rotary compressor (MDM-P / BDM-P).
Stainless steel brazed plates heat exchanger. Cooling circuit with ceramic dryer filter, sight glass, HP and LP and services valves.
Hydraulic condensation circuit made of copper pipe with threaded connections.
Electrical control panel with differential thermomagnetic protection.
Liquid injection system for negative temperature models with R-449A.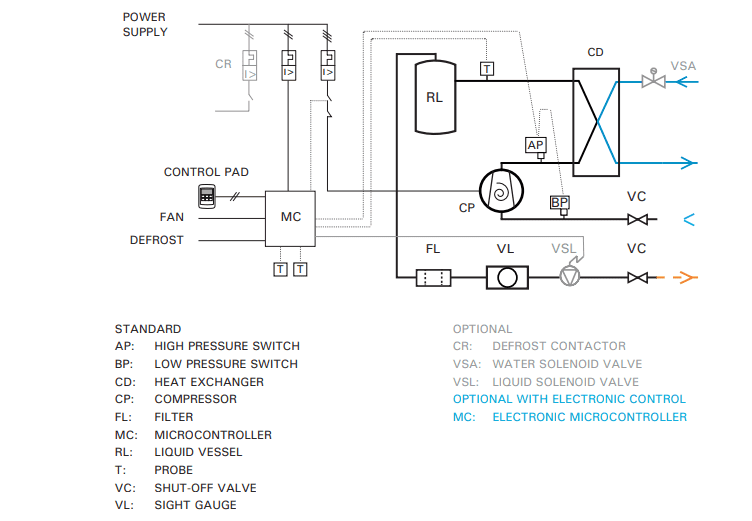 Change to 230 V-I-50 Hz power supply.
Electronic control for evaporator and compressor with temperature probes and control suitable for local or remote control.
Refrigerant preload for 5 m piping.
Built-in liquid solenoid valve with body and coil.
Water solenoid valve.
Flow regulation manual valve.
Hot gas defrost.