intarSANIT-TCH
Ventilation units for air renewal
Renovation, sterilization and purification of air in food handling rooms, industrial kitchens, clean rooms and other establishments.

Description
Technical features
Options
Dimensions
Documentation
Description
intarSANIT-TCH is the new air conditioning and supply solution for work rooms, with heat recovery from extract air. The ventilation equipment is specifically designed for the supply of fresh air in work rooms and food processing rooms, which operate at a temperature of 10 to 15 ºC, with the following functions:
Filtration, sterilization and purification of the room air.
Ventilation flow adaptable to the occupation, and overpressure of the room.
High energy efficiency with heat recovery in the extraction air.
Easy ceiling installation.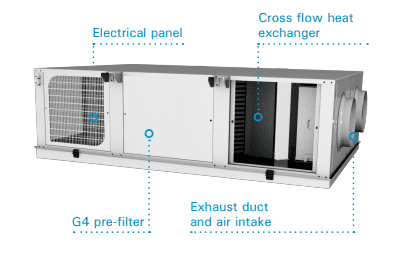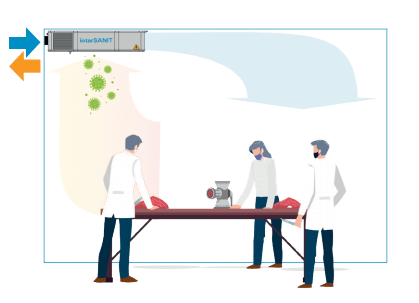 Control
iPro electronic control with distance digital display.
Air supply temperature control.
Filter status control.
Serial communication.
Control option: remote touch display.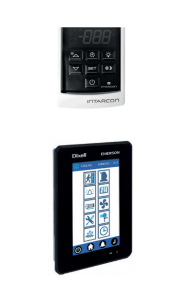 The ventilation unit is built in a white coated aluminum frame and chassis in a compact and lightweight design, with the following characteristics:
230V 50 Hz power supply. Available in 60 Hz. Other voltages by request.
Built-in a white coated aluminium frame.
Compact and lightweight design.
Adjustable ventilation flow from 500 up to 1 000 m3/h.
Compact refrigeration system with natural refrigerant R-290.
Static and dynamic heat recovery from exhaust air.
Air supply and extraction by centrifugal fan for connection to duct or textile diffuse.
G4 pre-filter and F7 new air filter.
CO2 and VOCs level control.