Description
Technical features
Dimensions
Documentation
Description
Door intarblock is a commercial monoblock for refrigeration and freezing cold rooms, for assembly in the door panel of the cold room with optional air curtain built-in on the unit.
Optimal use of space in mini cold rooms.
Tropicalised design for ambient temperature up to 45 ºC.
Air curtain (optional).
Units exempt from leak checks.
Air curtain (optional)
Door intarblock can incorporate an air curtain built-in into the unit, especially dimensioned for doors of 1800 mm high and up to 1 800 mm. It has an adjustable speed centrifugal fan, door switch and linear diffuser.
Air curtain creates an invisible barrier to prevent the loss of cold inside the cold room, which is activated during the opening of the door, and prevents the entry of hot air and the loss of cold air, with an efficiency greater than 50 %.
Centrifugal fan.
Longitudinal air diffuser.
Automatic activation with door opening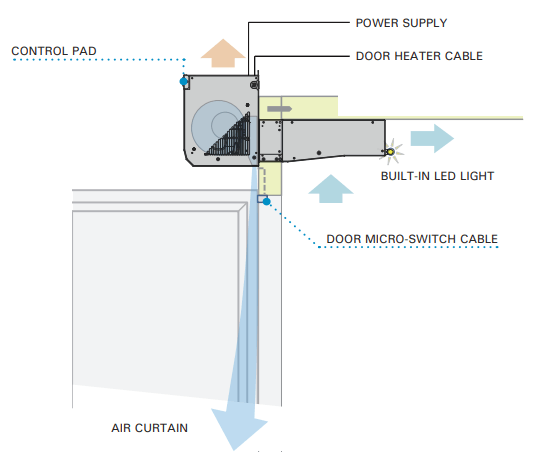 230 V-I-50 Hz power supply. Available in 60 Hz. Other voltages by request.
R-134a or R-449A refrigerant load, below 1 kg.
Hermetic reciprocating compressor.
High pressure switches.
Thermostatic expansion valve.
MCB protection.
Hot gas defrost.
Stainless steel drain pan.
Evaporation of condensed water.
Cold room LED light and door micro-switch cable.
Door heater cable (only for BCP series).
Multifunction electronic control.
Options
Evaporator coil epoxy anti-corrosion treatment.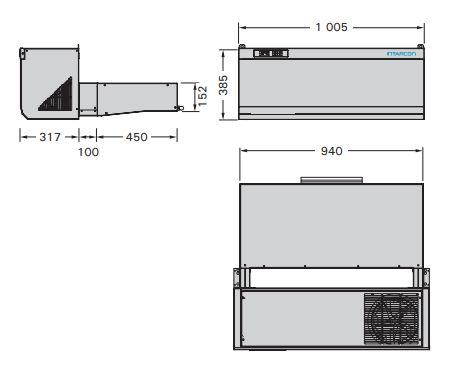 Measuring mm.