CRYOblock
Monoblocks
Door monoblock for vaccine preservation at -80 °C.

Description
Technical features
Dimensions
Documentation
Description
The CRYOblock system developed by INTARCON is an extremely low temperature storage system, specifically designed to provide a solution for the preservation of vaccines in logistics hubs.
The CRYOblock system is therefore a refrigeration system for conservation at -80 ºC characterized by:
Quick installation in new installation or adaptation of an existing cold room.
High reliability and operational safety.
Modular and expandable system.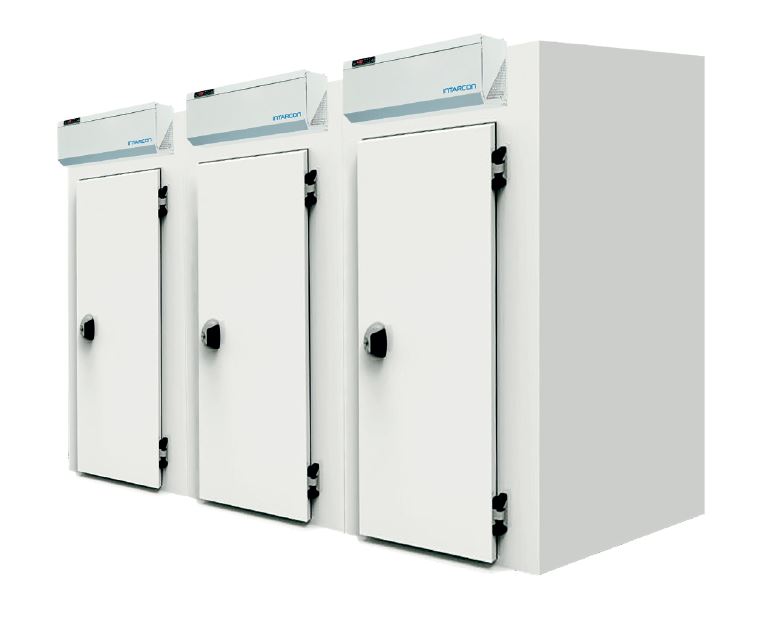 The innovative CRYOblock system allows a rapid deployment of a logistics infrastructure for vaccine preservation at -80 ºC, either as cold rooms of new installation and rapid execution, or by reacquisting existing conservation facilities at -20 ºC.
The CRYOblock system consists of a set of ultra-freezing cabinets at -80 Cº within a cold room at -20 Cº. Each ultra-freezing cabinet can accommodate a pharmaceutical pallet, and is equipped with a plug & play CRYOblock refrigeration unit installed over the door. The operator always works safely from the pre-room at -20 ºC to insert or remove the product into the ultrafreezing cabinet.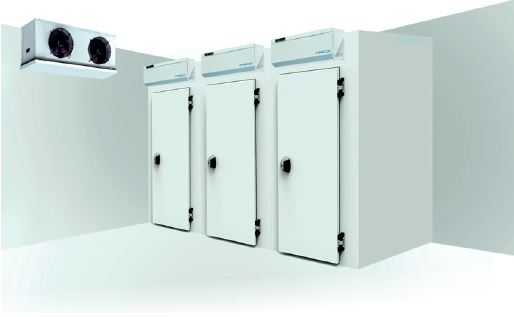 CRYOblock unit allows to maintain an extremely low temperature of down to -80 ºC inside the ultrafreezing cabinet, evacuating the condensation heat into the room at -20 ºC, which in turn is used as a pre-room to minimize cold losses and to avoid humid air infiltrations into the cabinet. The -20 ºC room is equipped with conventional cooling equipment.
The CRYOblock system is therefore a compact refrigeration system, which does not require a cooling connection on site, and that can be installed easily and quickly taking advantage of existing infrastructures.
230 V-I-50 Hz power supply. Available in 60 Hz. Other voltages by request.
Cooling equipment in accordance with UNE-EN 378.
Hermetically sealed compact refrigeration system, built in copper tube, preloaded with R-170 refrigerant, with expansion vessel, internal heat exchanger, dehydrating filter, and pressure switch.
Reciprocating hermetic compressor with thermal protection and oil separator.
Condenser in copper tube and aluminum fins with EC fan.
Evaporator in copper tube and aluminum fins with EC fan and expansion by electronic valve.
Integrated electrical panel with electronic control unit, at controlled temperature.
Manually operated electric defrosting system.
Door heater power cable.
Door switch.