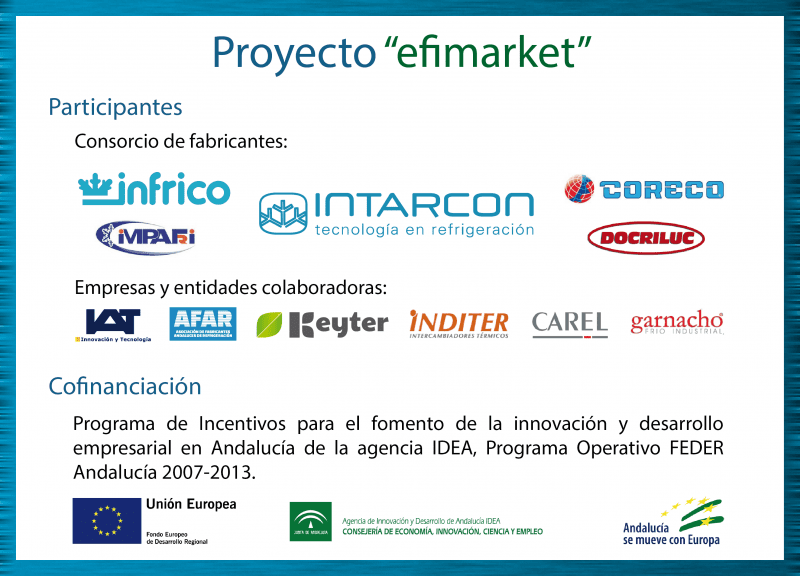 A project for efficiency and sustainability in central installations o  refrigeration and air conditioning in supermarkets – EFIMARKET – consists of a combined refrigeration plant for refrigeration and air conditioning in supermarkets.
The reach of the project encompasses research, development and testing of new refrigeration systems for supermarkets, together with the individual development of individual subsystems and units that make up the refrigeration installation. The project has spanned the stages of initial investigation, development and construction of prototypes and construction of a pilot plant, where each manufacturer contributes a part to the system.
The project has developed terminal units (refrigerated displays and air coolers for cold rooms), the other part of the project has developed a central refrigeration production unit, and, the pumping and distribution system of refrigerant to the group of terminal units.
Finally, the project has addressed the execution of the installation of the pilot plant for testing of the system and its group of terminal units, for this, a 100 m2 location has been constructed as a supermarket test location.
The Efimarket project is characterised by:
The combination of positive temperature refrigeration and HVAC
An indirect refrigeration system free from leaks
Total heat recovery
Conformation with F-Gas regulations
Optimised refrigeration performance
Scroll compressors
A very low load of R134a refrigerant
Axial or centrifugal condensation
The pilot installation is located at IAT,(Technological Centre for Engineering and Management of Innovation) located in Lucena (Cordoba).