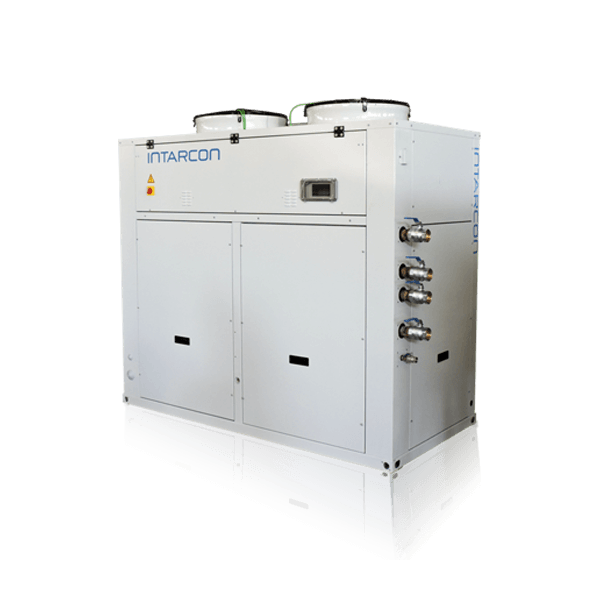 Efimarket
Cooling plants for supermarkets
The cooling plants for supermarkets "efimarket" are cooling production centrals specially designed for refrigeration and air-conditioning of medium sized supermarkets,
Description
Technical features
Optional
Description
The cooling plants for supermarkets "efimarket" are cooling production centrals specially designed for refrigeration and air-conditioning of medium sized supermarkets, with indirect system of positive cool distribution by glycol water pumping, as well as cool/heat distribution for air-conditioning by a double water circuit.
Advantages of cooling plants for supermarkets efimarket
Combination of positive cooling and air-conditioning.
Cooling distribution by propilenglycol for positive cool and by water for air-conditioning.
Low energy consumption.
Heat recovery for air-conditioning and cooling production economizer.
No refrigerant leaks.
Compact design for outdoors installations or working rooms.
Tropicalized design for ambient temperatures up to 45 ºC.
Construction of efimarket cooling plant
The efimarket cooling plants have a very compact construction comprising ar134a hermetic circuit along with hydraulic groups to pump glycol and water. They are available in two versions:
Series TWV-SY: with low noise axial fans for outdoors installation.
Series TWV-SCY: with radial fans and available static pressure for installation in engine rooms and condensed air ducting.
efimarket
Available models
The following models of cooling plants for supermarkets are available efimarket.
Modelo
Compresores
Pot. frig.
glicol -10/-5ºC
Pot. frig.
agua 7/12ºC
Pot. calor. agua 45/40ºC
Pot. abs. nominal
Int. máx absorbida
TWV-15038
5x ZB38
26 kW
27 kW
38 kW
15.5 kW
43A
TWV-15045
5x ZB45
30 kW
31 kW
45 kW
18.5 kW
45A
TWV-25058
5x ZB58
40 kW
41 kW
60 kW
23.0 kW
65A
TWV-25076
5x ZB76
51 kW
52 kW
80 kW
32.5kW
80A
TWV-25095
5x ZB95
63 kW
63 kW
100 kW
42.5 kW
120A
TWV-25114
5x ZB114
74 kW
73 kW
123 kW
53.0 kW
160A
Indirect system of cool production
The efimarket cool plants use propilenglicol as secondary refrigerant to distribute the positive cold in a double tube circuit, usually performed in polyethylene connection.
Rack of five scroll insulated compressors with rotalock service valves, mounted on shock absorbers, with internal clixon and crankcase resistance.
Condensing coil with large interchange surface.
Two electronic low consumption motor fans at variable speed, with electronic protection, dynamically balanced blazed and protection grills.
Cooling circuit of R-134a refrigerant made in copper tubes with high and low pressure switches, service valves, thermostatic expansion valves, liquid receiver, filter and sight-glass.
Oil accumulator and separator witn individual electronic injection per compressor.
Copper soldered plate interchangers in stainless steel, with antifreeze resistance.
Thermostatic expansion valve and electronic expansion valve for cool production.
Cool production economizer with medium pressure thermostatic expansion.
Cycle inversion valve for condensation heat recovery and heat pump performance.
Hydraulic circuit made in cupper tubes with flux interrupters filters, expansion bottles, security valves, thermo manometers, air purgers and dump valves.
Glycol circulation pump with stainless steel impellers at variable speed to keep constant differential pressure, with reserve pump.
Water circulating pumps for heating purpose, with reserve pump.
Electric control panel, with thermic, magneto thermic protection of compressor, motor fans and hydraulic pumps.
Electronic regulation of positive cold at five stages and air conditioning&heating at three stages, with temperature set points of water return, inlet-outlet temperature probes of glycol and water, high, medium and low pressure transducers, temperature probes for liquid refrigerant and compressors discharge, antifreeze control, digital condensing pressure control with floating set point, digital control interface.
Emergency electromechanic power.
External communication throught ModBus and RS485 connection.
Hot glycol for defrosting.
Anticorrosion coil cover.
Energy counter.