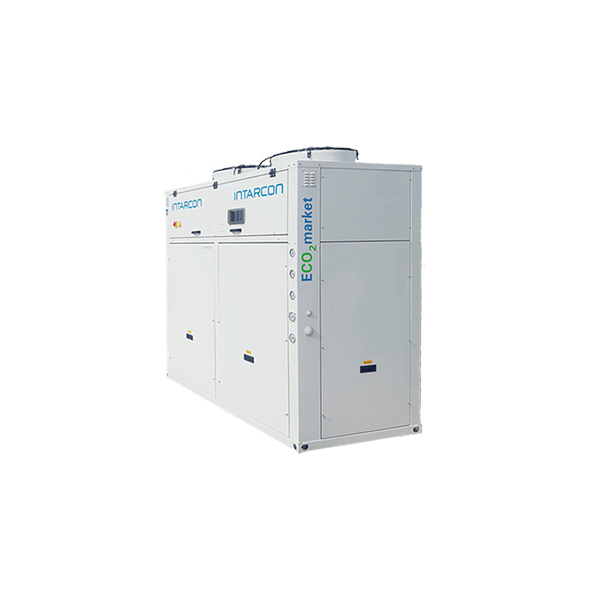 ECO2market
CO2 refrigeration system
Cooling capacity of 20 to 60 kW (NT + PT).

Description
Technical features
Optional
Dimensions
Documentation
Description
CO2 air cooled condensation refrigeration plants.  Plants contain a sub-critical CO2 cycle with double suction in cascade with an R134a cycle for high temperatures. ECO2market plants can be configured in various combinations with groups of 1,2 or 3 compressors to obtain a total cooling capacity of 20 to 60 kW (NT + PT).
High energy efficiency
ECO2market plants incorporate the latest technology and energy savings, such as inverter compressors and motor fans. As opposed to CO2 transcritical booster systems, the ECO2market maintains high energy efficiency even with high ambient temperatures thanks to a high temperature cascade cycle.
Environmental sustainability
The ECO2market system is respectful to the environment, noticeable reducing greenhouse gas emissions.
The ECO2market system incorporates a reduced charge of refrigerant gas with low greenhouse effect, confining a leak to test to the plant R134a circuit only. While the distribution of refrigeration is done only with CO2.
Thanks to its low energy consumption, the ECO2market system has a low TEWI level or an equivalent total atmospheric warming impact. The ECO2market system is compatible with European F-GAS ruling restrictions for 2022, being eligible for commercial refrigeration installations of any size.
Safety and Reliability
The ECO2market system is designed with well-known refrigeration technologies that haven been reliably tested. ECO2market plants have been built with commercial components available on the market and using traditional refrigeration techniques, allowing for easy installation and maintenance for refrigeration sector professionals.
The design pressure at 55 bar in the subcritical system permits using construction techniques of lower cost and higher reliability than transcritical CO2 systems at 120 bar. As a security measure, all critical components have been duplicated, guaranteeing continuity and function with automatic backup controls in case of failure of any component.
Quality and Trust
ECO2market plants incorporate high quality components; the manufacturing process includes strict quality controls and tests. The ECO2market system has been tested in our pilot installation, reproducing all possible situations and conditions, to verify its adequate response and guaranteeing a high level of availability and trust.
The tests include extreme ambient temperature conditions and critical functional situations, electrical system power outages and simulations of breakdowns and emergencies.
Available in 50 and 60 Hz. Other voltages on request.
Galvanised steel chassis with weatherproof epoxy paint.
Rack of up to 4 extended range subcritical semi-hermetic CO2 compressors, with rotalock valves.
Particle separator and CO2 suction filters.
A tandem of semi-hermetic R134a compressors.
Inverter for capacity monitoring for a group of compressors. (optional in NT plants).
Oil separator-accumulator with oil filter and electronic injection for compressor.
Built-in CO2 condenser/cooler, fan coil with copper tubes and aluminum fins.
Axial or centrifugal motorfans with EC motor.
CO2 recipient for high pressure with double security valve.
Economizer – subcooler of CO2 liquid.
CO2 drying filter.
Double cascade heat exchangers with stainless steel plates.
Double electronic expansion valves.
Instrument panel with manometers.
Control and power board with electronic switchboard for management of compressors, condensers and electronic valves.
Design pressure PS = 55 bar.
Total cooling capacity PT + NT of 20 to 60 kW.
Nominal input power of 10 to 30 kW.
Heat recovery for the production of ACS.
Emergency electromechanical control.
Emergency CO2 cooling circuit.
Hot gas defrost.