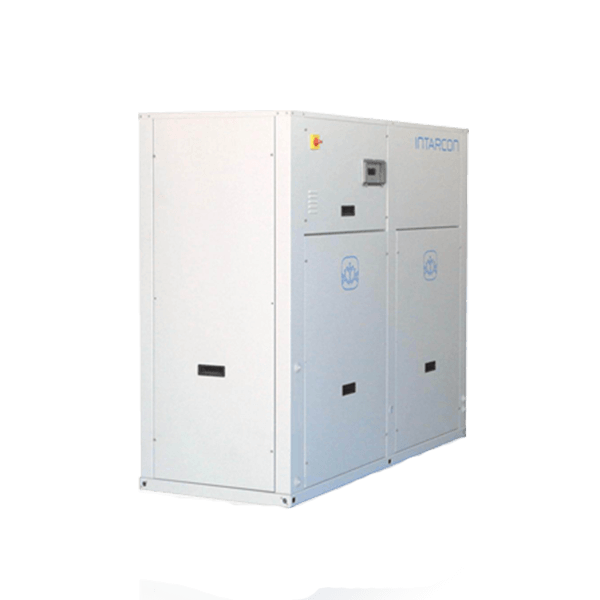 3pack
Tri centrals of refrigeration and air conditioning
Refrigeration plant with triple suction.
Description
Technical features
Optional
Description
Intarcon cooling tri centrals are compact production units condensed by air comprising three refrigerant suction lines at three pressure levels, designed to serve evaporating units of direct expansion for refrigeration at positive and negative temperature as well as air conditioning at high temperature, including as well a heat recovery system for heating and sanitary water production.
Intarcon cooling tri centrals are oversized to meet medium power demands at different temperatures for commercial purpose like medium size supermarkets, catering&hotels and small size industrial applications.
These facilities use to demand simultaneously positive temperature for refrigerated display cabinets and cold rooms, negative temperature for refrigerated islands and cold rooms, together with high temperature cool demands or heating systems.
Refrigeration plant with triple aspiration and heat recovery, centrifugal condensation, designed for freezing, cooling and air-conditioning purpose. Profile and bodywork in galvanised steel with thermosetting polyester coating, as well as:
Rack of 3 or 4 hermetic reciprocating compressors Maneurop MTZ of medium temperature and tandem of up to 3 compressors Maneurop NTZ of low temperature. Equipped with rotalock valves and anti-vibration support.
VRC (Variable Refrigerant Capacity) System, installed on a medium temperature compressor, to modulate progressively the cooling power demand ot the plant through PI electronic control.
High efficiency condensing coil with copper tubes and aluminium fins, with medium pressure radial motor-fans with electronic motor EC, with direct coupling at variable speed.
Economizer system sub cooling the refrigerant liquid by stainless-steel plate exchanger and thermostatic expansion valve.
Cooling circuit in annealed copper tubes, equipped with liquid recipient and level viewers, recordable dehydrating filter, liquid viewers, service valves, non-return valves in compressors and security switches.
High efficiency oil claimer and oil deposit with electronic control of level and individual oil injection per compressor.
Inbuilt electronic power board, with magneto thermic protection and individual differential switch in motors and general differential switch.
Electronic control of compressors and fans with digital display, pressure transmitters reading and temperature probes, performance status and alarms, with proportional control of aspiration pressure at medium, low and high temperature and modulating control of condensing pressure. External communication by ModBUS RTU protocol.
Triple noise insulation with noise-coating of compressors, discharge nozzle and acoustic lining on the structure.
Energetic efficiency
By integrating the cooling and air-conditioning systems at different temperatures, the energetic efficiency can be increased about 20% comparing to any current traditional system. The tri central takes advantage of these synergies to optimise the compressing cycle. In fact, the different temperatures allow compression by stages, increasing the efficiency of compressors and the system performance.
Heat recovery
By recovering the condensing heat, the facility can be free-conditioned and also hot sanitary water can be supplied. In southern latitudes and Central Europe, this heat recovery is often enough to cover all demands of facilities like supermarkets, and therefore global energy consumption is reduced by 15%.
VRC regulation capacity
VRC system allows modulating progressively the cooling power to adapt to instantaneous demand
The VRC system is composed by a set of pressure and temperature regulation valves able to progressively change compressor's cooling capacity from 100% to 10% of its nominal capacity, while reducing the absorbed electrical power and protects the compressor as its operation is kept between its safety margins for avoiding reheating risk.
Hot gases heat exchanger to produce 50-60ºC sanitary. Composed by a stainless steel plate heat exchanger, hydraulic circuit in copper tube, service keys and threaded fittings.
Condensing heat recovery to produce 35-40ºC water. Composed by a stainless steel plate exchanger hydraulic circuit in copper tube, service keys and threaded fittings.
Individual hot gas defrosting per evaporating unit, with cooled gas retours through aspiration line irrespective of central unit.
Heat recovery of air conditioners, with cool mode for summertime and heat mode for wintertime.