Commercial refrigeration waterloop system
Consisting of: distributed refrigeration groups, with indirect condensation through a water circuit; and one or more air-cooled units in parallel for the evacuation of condensation heat.
Waterloop is a commercial refrigeration system, consisting of: DX cooling units distributed, with
indirect condensation by a water circuit; and one or more units in parallel air-cooler connected to the condensation heat disipation.
Supermarkets and food stores aplications.
Waterloop system allows distributed cooling production at different temperatures, with a single condensing water loop. Condensation heat recovery from the cooling units can easily be carried out in air conditioners or fan coils.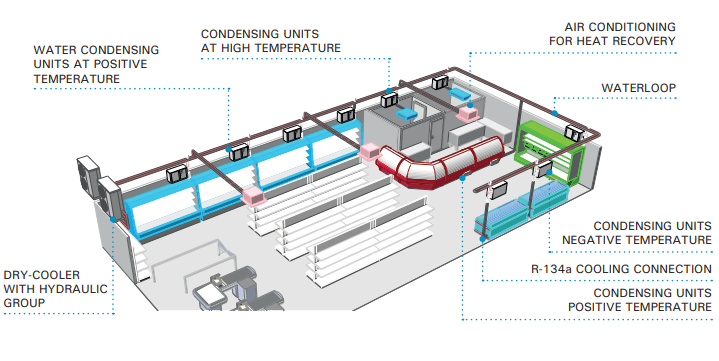 Application in industrial kitchens.
Waterloop system makes possible to centralise a set of cold rooms and process rooms. The use of compact R-290 waterloop units in cold rooms and process rooms is a 100 % ecological solution free of greenhouse gases.
Ecology.
Distributed cooling production allows to reduce and fractionate the load of HFC refrigerant in the installation, so that the risk of leakage is reduced.
Safety.
Decentralization of the cooling production contributes a greater operation security of the installation, that guarantees a high availability of the system when faced with the isolated failure of a single unit.
The installation of a double air-cooler or dry-cooler in parallel, provides a greater operational security.
The condensation water loop contains only closed-circuit water working at low hydraulic pressure.
Simple intallation.
Waterloop system is very easy to install, thanks to its condensed water units precharged with refrigerant, and air-coolers or dry-coolers with inbuilt hydraulic unit/circuit.
Precision.
Distributed cooling production allows adaptation of working temperatures to the needs of each service, thus obtaining an adequate degree of humidity for the best preservation of each product, and
optimizing the performance of the systems.
Energy saving.
Condensing units incorporate high-efficiency scroll compressors with R-134a or R-449A refrigerant for positive temperature, and R-449A for negative temperature.
Air-coolers or dry-coolers incorporate hydraulic group with electronic pump of variable flow, that adapts its functioning
speed to the demand of the installation.
Motor fans are equipped with speed regulators to reduce their consumption in low ambient temperatures or low load.
Versatility.
Waterloop system is applicable both in new installations and in existing centralized direct expansion facilities, where the update
of refrigeration plant is desired. In fact, existing refrigerating displays are usable and easily converted to new refrigerants.
Easy and flexible installation.
Refrigeration units are supplied with service valves and factory precharge with refrigerant and preloaded with service keys.
The waterloop can be made with polypropylene pipe without insulation, with service valves in each refrigeration unit, thus providing great flexibility in modifying the installation.
Tropicalised design.
Unlike other systems on the market, the waterloop system is designed to work properly even with extreme ambient temperatures of up to 45 °C, with condensation water temperatures of up to 55 °C, and without the need to incorporate additional cooling equipment.
The waterloop system allows different configurations from a simple cold room, to a set of rooms and other refrigeration services at different temperatures.
Simple intallations example 1+1

Twin intallations example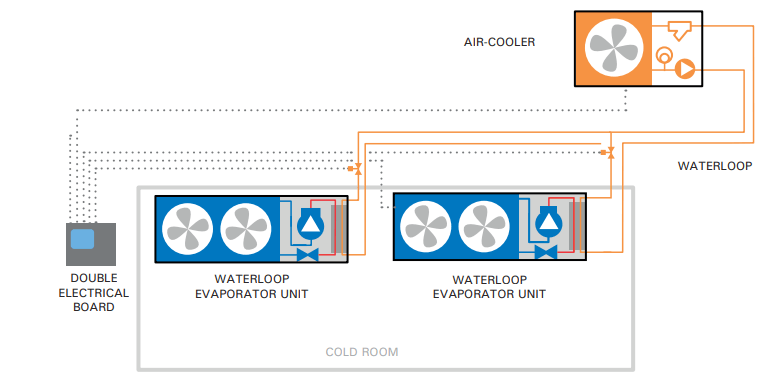 Multi intallations example